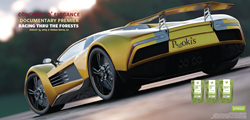 For the Conquors d' Elegance documentary premier, "Racing Thru The Forest" at Pebble Beach we've curated our top selling award-winning teas including flavors in the upcoming 2014 Emmys Celebrity Gift Bags.
San Francisco, CA (PRWEB) August 13, 2014
Business Hall of Fame Inductee Pooki's Mahi announced today a partnership with Eight Delta Marketing Group to treat Concours d' Elegance executive, drivers and their families to award-winning teas for the documentary film's premier, "Racing Thru The Forest" at the 64th Annual Pebble Beach Concours d' Elegance.
Since 1950, Pebble Beach has been host to the finest exhibition of show cars in the world. This annual gathering includes rare and antique automobiles, international automotive luminaries and motorcar enthusiasts from around the globe.
This year, Concours d' Elegance will premier the documentary film "Racing Thru The Forests" that documents the history of the Pebble Beach Road Races through never-before-seen film footage, the insights of automotive historians, and, most importantly, the voices of the people who were there. The film captures the adrenaline and verve of those who dared to risk it all on the winding roads of one of racing history's most challenging circuits.
"We were finishing the general availability prep to premier Pooki's Mahi's new product line, 100% Kona Coffees in Single Serve format at the upcoming Emmys. It's refreshing to partner with Andy Nguyen, Partner of EDMG and Adriana Michelle, a member of EDMG. Eight Delta Marketing Group (EDMG) identifies events and products best suited for it. Pebble Beach Concours d' Elegance is an fantastic opportunity with several marque sponsors such as Mercedes Benz, BMW, Rolls Royce, Lamborghini, Rolex, Dom Perignon, Dos Equis and more. We're excited for this opportunity to show case Pooki's Mahi's high end, award-winning teas and 100% Kona coffees. For the documentary premier we've curated our top selling award-winning teas including flavors in the upcoming 2014 Emmys Celebrity Gift Bags," explains Leslie Magsalay-Zeller, Founder/CEO of Pooki's Mahi.
She excitedly continues, "Pooki's Mahi partners with companies who are highly organized, like-minded, experts in their industry with a track record and executes consistently. Disorganization, lack of flexibility or accomplishments is not tolerated. Initial partnerships are tested. We're highly selective with our long-term partnerships. What makes EDMG unique is the organization shares Pooki's Mahi strong pay it forward mantra. We're already collaborating on the next big event. Pooki's Mahi would not be where it is today without strong partnerships."
Each Concours d' Elegance Documentary Premier attendee is treated to award-winning loose leaf teas from Pooki's Mahi's Tea Collection

Black Teas: Each sip reveals the complexity of the high grown full leaves. A great morning kickstarter.
Blooming Teas: These artisan teas will bloom as they steep tantalizing the eyes as well as the taste buds.
Dessert Teas: Unique aroma and aftertaste. Enjoy these delicious flavors without any guilt.
Green Teas: Unfold the rich and floral fragrance for a clean, delicious taste you will enjoy.
Matcha Teas: Discover the way of matcha and consumer more anti-oxidants, vitamins, minerals, and fibers.
Oolong Teas: A cross between black and green teas with a mellow, fruity aroma and sweet pastry finish.
Tisanes / Custom Fusions Teas: Super charge with custom fusion teas infused with ginger, ginseng, citron, raspberry, hibiscus and apple.
Pebble Beach®, Pebble Beach Concours d' Elegance®, and their respective underlying distinctive images are trademarks, service marks and trade dress of Pebble Beach Company. The Academy Awards ® is a registered trademark of the Academy of Motion Picture Arts and Sciences®. The Gift Suites where Pooki's Mahi's products are show cased are not authorized by and is not associated with Pebble Beach®, Pebble Beach Concours d' Elegance®, Academy of Motion Picture Arts and Sciences®, The Academy Awards®, or any of its official partners or vendors.
About Pebble Beach Concours d' Elegance:
The Pebble Beach Concours d'Elegance is the world's premier celebration of the automobile. Only the most beautiful and rare automobiles are invited to appear on the famed eighteenth fairway of Pebble Beach Golf Links each year, and connoisseurs of art and technology congregate to see them.
About Eight Delta Marketing Group (EDMG):
Eight Delta Marketing Group (EDMG) was founded to address the growing need for individuals and organizations to embrace sustainability in their everyday world through powerful social media engagement. Launching a successful online marketing campaign (and making sure it stays successful) isn't as much of an art as it is a science, and the dedicated team at EDMG has got the solution for you. With the right mix of HD content, advanced marketing practices and up-to-date social media strategies, EDMG's custom approach to social media marketing is your ticket to increased traffic, improved conversion rates and higher ROI for you and your business. George Ohan and Andy Nguyen are EDMG's Partners.
About Pooki's Mahi:
Pooki's Mahi is a Silicon Valley-based etailer offering exotic 100% Kona coffees, award-winning teas, and other specialty food products at reasonable prices. Since its online launch in 2013, Pooki's Mahi products have been a favorite of customers, charities, celebrities and athletes and have been featured at red carpet events including Celebrity Gift Suites and Celebrity Poker tournaments. The products have been endorsed by many celebrities and athletes and seen on several television shows. Most recently Pooki's Mahi products can be seen on the show "Boys Before Friends," which airs on Viki.com.
Pooki's Mahi, founded by Silicon Valley High Tech Executive Leslie Magsalay-Zeller, started with exotic coffees rated 95+ by Coffee Review from the world's champion roastars and baristas and teas rated 90+ points by World Tea Ratings from the world's champion brew masters. Today, their product offerings include a deluxe assortment of macadamia nut products, drink sweeteners like brown rock sugar, various gourmet salts and much more. For more information on Pooki's Mahi selection of exotic coffees, teas and other gourmet food products, visit http://www.pookismahi.com. To keep up with Pooki's Mahi news an access special offers, join our email list and follow us on Facebook and Twitter (@pookismahi).
Contact Information
Pooki's Mahi
Pr(at)pookismahi(dot)com
###