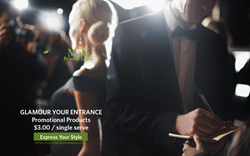 Pooki's Mahi would not be where it is today without partners leading the product areas in the supply chain ecosystem, fulfillment, and marketing (product marketing, market communications, events, press and media).
San Francisco, CA (PRWEB) August 21, 2014
Pooki's Mahi announced today it was shipping 100% Kona coffee pods, from a new product line, sustainable single serve ahead of the September launch and well before the red carpet Honoring The Emmys® Event premier. Top stars in the entertainment industry consistently turn out for the invite-only event. A who's who of film, television, sports and music personalities eagerly await for Pooki's Mahi's much anticipated celebrity swag.
Pooki's Mahi's 100% Kona Coffee Single Serve product line is unique.
"There were several goals Pooki's Mahi's 100% Kona coffee pods needed to meet for it to be successful. First, we use only Private Reserve, Estate Extra Fancy and Peaberry Kona grade coffee beans. Our manufacturing partner is the largest roaster of 100% Kona coffee. The Kona coffee crop is healthy and in limited supply. Second, the coffee beans sourced are listed on Forbes Top 50 Best list, won multiple coffee competitions and voted PCCA Coffee of the Year. Each cup holds 10.5 to 11 grams of coffee. Third, we've priced Pooki's Mahi's 100% Kona coffee single serves at $39.99 with free shipping to the Lower 48 States (US only). Each pouch contains 24 cups. This equals to $1.67 per cup. Orders arrive 1-3 days to the West Coast, Southwest, and parts of the Midwest. It will take 4-5 days for orders to arrive to customers based in the East Coast or the South," explains Leslie Magsalay-Zeller, Founder/CEO of Pooki's Mahi.
Les continues, "Pooki's Mahi's Operations and Fulfillment teams are working diligently to add fulfillment centers so orders arrive within 1-3 days to customer based in the East Coast or the South."
Pooki's Mahi's 100% Kona coffee single serves in Regular and Decaf were presented or will soon be presented to several international and national brands. Notables include Whole Foods, Andronico's, Google, Four Seasons, Andaz, Andaz Maui, A Southern Season Food, Ritz-Carlton, Health Flavors, Sesame Gifts, Groupon, Living Social, Amazon Direct, QVC, etc. Pooki's Mahi operations teams have shipped orders for several wholesale and private label customers.
Customers can purchase Pooki's Mahi's 100% Kona coffee single serve pods (Regular and Decaf) for $39.99 with shipping included on http://pookismahi.com.
Pooki's Mahi's 100% Kona coffee pods work in 1.0 and 2.0 single serve coffee makers. Pooki's Mahi, The PMO Practice, and Matcha Matcha Man are trademarks of Pooki's Mahi.
The Academy Awards® is a registered trademark of the Academy of Motion Picture Arts and Sciences®. The Gift Suites where Pooki's Mahi's products are show cased are not authorized by and is not associated with the Academy of Motion Picture Arts and Sciences®, The Academy Awards®, or any of its official partners or vendors.
About Pooki's Mahi:
Pooki's Mahi is a Silicon Valley-based private label manufacturer and online etailer offering exotic 100% Kona coffees, award-winning teas, sweeteners, gourmet salts, macadamia nuts and other specialty food products at reasonable prices. Since its online launch in 2013, Pooki's Mahi products have been a favorite of customers, charities, celebrities and athletes and have been featured at red carpet events including Celebrity Gift Suites and Celebrity Poker tournaments. The products have been endorsed by many celebrities and athletes and seen on several television shows. Most recently Pooki's Mahi products can be seen on the show "Boys Before Friends," which airs on Viki.com.
For more information on Pooki's Mahi selection of 100% Kona coffee pods, award-winning teas, wholesale or to participate in the private label pilot, visit http://www.pookismahi.com. To keep up with Pooki's Mahi news an access special offers, join our email list and follow us on Facebook and Twitter (@pookismahi). Pooki's Mahi has a zero tolerance stop cyber-bullying policy. Any suspicious activity will be documented and reported to the appropriate authorities. Go to http://stopbullying.gov to learn more.
Contact Information
Pooki's Mahi
Pr(at)pookismahi(dot)com