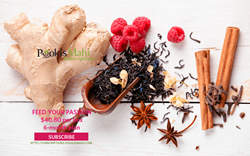 Pooki's Mahi's merges technology with an efficient supply chain to launch new private label chai tea pods to market with high quality ingredients from suppliers.
Silicon Valley, CA (PRWEB) February 18, 2017
Pooki's Mahi, a Silicon Valley startup of private label and custom Kona coffee pods announced today it kicked off a third end-to-end pilot for a select group of customers to assess chai tea pods. The goal is to have Pooki's Mahi's repeat customers identify the savory chai teas, chai latte single serves and chai tea flavors for an upcoming launch. Chai teas have a unique aroma and aftertaste. Pooki's Mahi's customers requested a variety of single serve teas, decaffeinated tea single serves and oolong tea pods.
Les Magsalay-Zeller, Pooki's Mahi's Founder/CEO explains, "Pooki's Mahi completed the first pilot to prune the number of single serve tea flavors. Pooki's Mahi's initial private label tea catalogue contained up to 50 different flavors across five to six tea varieties. Existing customers help drive Pooki's Mahi's product launches. Pooki's Mahi's customers requested a variety of single serve teas, custom promotional teas, decaffeinated tea single serves, and oolong tea pods."
The Silicon Valley high tech executive continues, "Pooki's Mahi's very lengthy pilot process tests coffee pods manufacturers capabilities to consistently produce custom private label tea pods using approved bill of material components, sustainable single serve cups, food grade pouches and an ecommerce approved ship-ready box. Pooki's Mahi's owns and manages all suppliers' relationships. Coffee pods manufacturers produce 100% Kona coffee single serves and single serve tea pods to Pooki's Mahi's specifications and are graded against a strict First Article Inspection (FAI) process."
Pooki's Mahi's second pilot will prune and finalize the number of tea flavors launching into several variety packs.
The teas fulfill Pooki's Mahi's goal to provide sustainable, high quality single serve teas used for existing online retail, custom private label teas, and private label Kona coffee to customers. Chai tea single serves are individually wrapped to keep chai teas fresh. Each chai tea single serve lists the ingredients list, allergy information, single serve coffee maker brewing instructions, nutrition information and basic company information for Pooki's Mahi.
The new single serve chai tea pods are currently being tested with existing Pooki's Mahi's Kona coffee single serves and Hawaiian Islands tea customers. Pooki's Mahi single serve tea pods can be purchased on Pooki's Mahi and select online retailers and marketplaces. The transition of Pooki's Mahi's loose leaf teas to single serve teas featuring over 12 flavors individually wrapped in an environmentally friendly cup will complete after the pilot tests.
Pooki's Mahi's methodology to continuously improve existing products like Kona coffee single serve before and after launches was implemented in the new chai tea pods. Pooki's Mahi aims to confirm chai tea flavors combinations, the number of chai latte single serves or chai tea flavor infusions.
Pooki's Mahi's Single Serve Chai Tea Flavor Goals:
1. Confirm the number of chocolate combinations using dark chocolate or white chocolate mixed with fruit like ripened bananas or fresh baked pear.
2. Determine the sweet combinations like creamy vanilla, caramel, honey, or cinnamon.
3. Identify the number of traditional chai tea single serves that taste of cinnamon, ginger, vanilla or ginger.
4. Confirm the unique tropical aloha islands flavors like coconut, vanilla, mango or guava mixed with ginger and cinnamon.
5. Determine the number of decaf or caffeinated teas.
6. Confirm tea family like Holy Basil (Tulsi) or Rooibos for the tea base.
The Silicon Valley startup is focused on delivering high quality private label tea single serves and 100% Kona coffee pods using Pooki's Mahi's expertise in operations and supply chain excellence, new product introductions, and go-to-market launches. Pooki's Mahi does not have a date to when the new chai tea single serves will launch. The Silicon Valley private label brand manufacturing startup expects the new single serve teas will ship in the first half of 2017. Pooki's Mahi identified a celebrity gift suite to launch the new private label tea pods.
For use in single serve coffee makers. Pooki's Mahi, The PMO Practice, and Matcha Matcha Man are trademarks of Pooki's Mahi.
The Academy Awards® is a registered trademark of the Academy of Motion Picture Arts and Sciences®. The Gift Suites where Pooki's Mahi's products are showcased are not authorized by and are not associated with the Academy of Motion Picture Arts and Sciences®, The Academy Awards®, or any of its official partners or vendors.
About Pooki's Mahi:
Pooki's Mahi is a Silicon Valley-based custom promotional products manufacturer, private label distributor and etailer offering award-winning 100% Kona coffee pods, 100% Hawaiian coffee pods and 100% Kona Decaf single serves at wholesale and bulk prices. Since its online launch in 2013, Pooki's Mahi products have been a favorite of customers, charities, celebrities and athletes and have been featured at red carpet events including Celebrity Gift Suites and Celebrity Poker tournaments. The products have been endorsed by many celebrities and athletes and seen on several television shows. Pooki's Mahi's mission is to revolutionize the supply chain ecosystem in bringing the highest quality Kona coffees into the market in a sustainable format. Hawaiian coffees are harvested/roasted in Hawaii, cup manufactured in US and distributed to the several fulfillment centers in the US.
For more information on Pooki's Mahi selection of 100% Kona coffee subscriptions visit http://www.pookismahi.com. To keep up with Pooki's Mahi news and access special offers, join our email list and follow us on Facebook and Twitter (@pookismahi). Pooki's Mahi has a zero tolerance stop cyber-bullying policy.
Contact Information
Pooki's Mahi
support(at)pookismahi(dot)com
Twitter: @pookismahi
Facebook: Pooki's Mahi
###