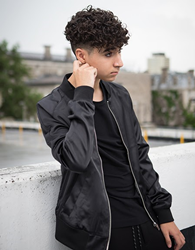 "With a relationship that is as bad as the one in the song, it's better to let go, move on, and grow," Azym says about the meaning behind his new single.
OTTAWA, Ontario (PRWEB) October 07, 2020
As a young phenom, Canadian pop-R&B singer, dancer and actor Azym sings of a love best lost in his new single, "One and Only" — available now.
"This is about a bad relationship that was toxic, indecisive, and hurtful," Azym shares of the track's meaning. "The couple push and pull each other in different directions and, in the end, only destroy it.
"Obviously after a relationship ends, you feel kinda bad about it," he continues. "In situations like this one in the song, though, it really is about realizing it's better to have nothing at all than to stay in a relationship that's not working.
"With a relationship that is as bad as the one in the song, it's better to let go, move on, and grow."
A multi-talented triple threat, Ottawa's Azym was recently hand-picked to audition for America's Got Talent, won Silver at the 2020 World Championships of Performing Arts, was a semi-finalist in the International SongWriting Competition (2019) for his song 'Open Up', was an Official Nominee of the American Songwriting Awards (2018) for his song 'Feel the Groove', and more.
Azym performs regularly, with 30+ live shows pre-quarantine. His showmanship has ensured success: being chosen as a Semi-Finalist in a 2018 'Family Channel' Competition, performing "Open Up" on Rogers Live Daytime Ottawa TV for a Children's Hospital (CHEO) fundraiser, and being chosen for an exclusive interview with Pacific Northwest Radio's talk show host for 'Make a Scene Canada'. And, at the New York City International Modeling and Talent Association (IMTA) competition in 2016, Azym was a Semi-Finalist in the singing and acting categories, performing in front of audiences of 1000 to 3000+ people at each venue.
His previous singles include "Open Up" and "Feel The Groove", and he's working on his EP, so keep your 'eyes and ears' open! At just 16 years old, Azym's trajectory has been phenomenal. He has the stage presence and heartthrob appeal of someone like Justin Bieber, and the vocals to melt your heart away.
"One and Only" is available now, with Kalista Wilson as the female Muse.
For more information, please contact:
Dawn Van Dam
Canyon Entertainment Group