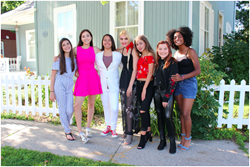 One amazing message: Empowering girls to become the best versions of themselves.
NEW YORK (PRWEB) September 27, 2018
Toronto-based Pop-Rock Superstars, Girl Pow-R, announce today that they have been nominated for Best New Group at The 2018 Niagara Music Awards. The ceremony is set to take place on Sunday September 30th at 6:30 PM. Girl Pow-R have had quite the year of success, with all of their 2018 releases surpassing 105K combined YouTube plays and Spotify streams, and being named Global Ambassadors of The 2018 Toronto Youth Day.
Stage Right Secrets raved about "Fun All Day" stating; "If you love feel good pure pop music, we've found your latest obsession!"
Additionally, Girl Pow-R is also one of only 14 artists who have been invited to perform LIVE, ON STAGE at the Niagara Music Awards - Season Eleven - 2018 Event. The show is televised across Canada for the first time ever through partners at TV Cogeco / Cogeco - Ontario / Cogeco - Québec / YourTV / YourTV Niagara and all of their subsidiary markets.
The Red Carpet Doors will be opened at 5:30 pm with press meetings, photos with the step and repeat boards taken, and interviews with official media representatives from Niagara this Week / St. Catharines Standard / Niagara Falls Review / Welland Tribune / @Thorold News / Country 89 / 91.7 Giant FM / 97.7 HTZ-FM / Newstalk 610 CKTB / 4680q.ca / BS-Live / CHCH TV / GoBe Weekly / STC CoffeeNews / Rev Publishing Multimedia Group.
Festival representatives will include Canal Days / Havelock Jamboree / Winter Festival of Lights / Winter Wine Festival / Rock The Park Music Festival / Concerts on the Canal / SCENE Music Festival / Welland FloatFest / Peach Festival Gardens / Toronto Music Scene just to name a few.
Girl Pow-R left a lasting impression on Tiger Beat after performing "Krisi" live on their Instagram story, and they noted "..we haven't been able to forget them ever since."
"One amazing message: Empowering girls to become the best versions of themselves." -Girls' Life
The girls stuck to their Canadian roots with the video for "Stronger than Yesterday". It was filmed in 6 different Toronto locations and the girls told Celeb Secrets exclusively; "Filming our music video was a very fun and amazing experience [...] We had multiple clothing changes, performed our choreography that we do when we are on tour, did a live performance where we played our instruments and sang, used this really cool white bridge that connects two parts of the city, and more!"
The girls are constantly aiming to release high energy tracks that will become an anthem to all the teens around the world who are pushing to rise above difficult life challenges they may be facing. Member, Bella, told Girls' Life, "For me, the song 'Krisi' addresses many of the real challenges girls encounter in daily life. Bullying, hurt, and sadness, and it tries to identify a path of empowerment in order to overcome these challenges."
The 2018 Niagara Music Awards Ticket Purchase
Date & Time:
Sunday, September 30th at 6:30 PM
Location:
Champaign Banquet Hall
294 Vine Street, St. Catharines, ON L2M 4T3
MORE INFORMATION:
The members of Girl Pow-R originally joined forces in conjunction with International Women's Day in support of #BeBoldForChange. Each member has a unique mission to inspire teens and to support social causes with their music and positive messages, and they all have a separate charity that they feel strongly about. Girl Pow-R showcases their talent through not only singing, but dancing, instrument playing, and songwriting. This group of multi-talented girls have performed at over 95 shows since May of last year, and plan to continue on this route throughout 2018. Their memorable vocals and captivating performances have even earned Girl Pow-R a 2017 Toronto Independent Music Award Nomination for "Krisi".