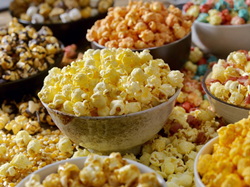 When we're looking for a top-notch subscription box for gourmet food, Amazing Clubs almost always comes in first place — and their Popcorn Club is our newest favorite
OVERLAND PARK, Kan. (PRWEB) December 30, 2020
TopConsumerReviews.com recently gave its best-in-class 5-star rating to Amazing Clubs, an award-winning provider of online Popcorn Club subscriptions.
Popcorn definitely isn't just for eating at the movie theater! So many people find themselves watching TV at home, even streaming the newest theatrical releases, and are looking to replicate the crunchy goodness of their favorite snack. That's where Popcorn Clubs come in. These monthly subscription boxes deliver a mouthwatering array of flavors right to the home or office, both in traditional tastes like Caramel Corn and Cheddar as well as novel ones that aren't often found in stores. Popcorn Clubs make a terrific gift, with plans ranging from monthly to quarterly for up to a year. There's no better way to stay stocked up on the freshest, most flavorful popcorn available today.
"When we're looking for a top-notch subscription box for gourmet food, Amazing Clubs almost always comes in first place — and their Popcorn Club is our newest favorite," according to Brian Dolezal of TopConsumerReviews.com, LLC. "Every delivery comes with not one but three fun flavors in a two-gallon package, and you're definitely going to get some you've never tried before. Past selections have included Cinnamon Churro, Mango Habanero, and even Loaded Baked Potato: you always get both savory and sweet popcorn in your shipment. Amazing Clubs includes a themed newsletter in all of their membership clubs, and their Popcorn Lover's Newsletter tells you about the artisans who made your treats and shares some fun facts about popcorn itself. This service is well-known for being extremely flexible, letting recipients know in advance which flavors they'll be getting and allowing them to skip a month if there's one they don't like or shouldn't eat because of allergies. And, this Popcorn Club comes with a 100% satisfaction guarantee; Amazing Clubs genuinely wants you to be delighted with each and every delivery you get and will make it right if you're not. If you want the best Popcorn Club around, we recommend you 'pop' on over to the Amazing Clubs website and get started. This subscription earns our highest recommendation in 2020."
To find out more about Amazing Clubs and other Popcorn Club memberships, including reviews and comparison rankings, please visit the Popcorn Clubs category of TopConsumerReviews.com at https://www.topconsumerreviews.com/best-popcorn-clubs/.
About Amazing Clubs
Amazing Clubs was founded in 2003 and began with the mission of bringing its members the most exclusive and highest-quality gourmet items available anywhere. Initially beginning with a single club, Amazing Clubs rapidly expanded to include more than three dozen clubs ranging from bacon to wine. Amazing Clubs currently has offices in three states and two countries, and is proud to have served more than two million happy customers. Amazing Clubs is a division of ICG America, Inc.
About TopConsumerReviews.com
TopConsumerReviews.com, LLC is a leading provider of reviews and rankings for thousands of consumer products and services. From Popcorn Clubs to Chocolate Stores and Birthday Party Supplies, TopConsumerReviews.com delivers in-depth product evaluations in order to make purchasing decisions easier.