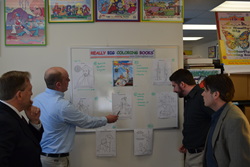 We are not missionaries, ministerial, or men of the cloth: only four sinners and we know it. We love Pope Francis.
Saint Louis, MO (PRWEB) May 01, 2014
"Our company Really Big Coloring Books® Inc. is impressed with the new Pope, and the coloring and activity book was made because we want to share with others. We compiled this book with integrity, respect, honesty and courage. Pope Francis has touched many people beyond Catholics. He is a "Pontiff – a Bridge Builder" and a man who brings hope and change into the lives of others. A humble man of the people, who understands peace, love, and the world as it really exists," stated Publisher, Wayne Bell.
The Pope Francis Coloring and Activity Book is produced primarily by three non-Catholics; a Jew, an Anglo Saxon Protestant, a Lutheran and one Catholic. We are not missionaries, ministerial, or men of the cloth; only four sinners and we know it. Complete with historical facts, the early life and current day events at the Vatican the book is designed for children of all ages and is educational in format with plenty of pages to color. "As a life long Catholic researching and working on this book was an enjoyable and educational experience," Derek Creative Director.
Born Jorge Mario Bergoglio on December 17th, 1936 and elected Pope March 13, 2013, His Holiness Pope Francis. A man of the people, humble, peace, love and joy is the Pope. "I feel very blessed to have been able to work on the "Pope Francis" coloring book project. Catholic or not, Pope Francis' actions and teachings of peace and love are truly inspiring. To create illustrations based off of Pope Francis' wonderful deeds and world leadership is truly a magnificent experience," Matt Art Director.
From the Latin word Pontifex comes the word Pontiff, which means bridge builder. This educational coloring and activity book was made for all ages and everyone; without regard to race, religion, heritage, status or location.
Really Big Coloring Books®, Inc., headquartered in St. Louis, MO, is a multi-national company providing quality children's teaching and learning tools and coloring book products for over two decades. Known for their market leading positions the RBCB family of products are classic, colorful and unique. The company owns more than 900 coloring book related domain names in several countries and is a trend-setting leader in the coloring book industry.
All the RBCB company products are manufactured in the U.S.A.
To find out more visit: http://www.ColoringBook.com or call 314-725-1452.