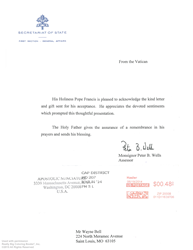 Many of our readers think Pope Francis stands head and shoulders above most global leaders, be-it Obama, Putin or the leaders of China and France
Saint Louis, MO (PRWEB) March 13, 2015
From the Latin word Pontifex comes the word Pontiff, which means bridge builder. This educational activity book was made for people of all ages, any religious background, heritage or location providing a fun, detailed history of the Holy See including Vatican City and even the Popemobile. The book has been great for schools, educators, birthdays, confirmation gifts and of course Easter!
"Our company produced the book with love, understanding and acceptance of humanity," states the publisher Wayne Bell via video. "We honor the difference of those around us and try be as inclusive and tolerant just like Pope Francis. Many of our readers think Pope Francis stands head and shoulders above most global leaders, be-it Obama, Putin or the leaders of China and France."
Used as a teaching and learning tool The Holy See Pope Francis Coloring & Activity Book is designed to be a fun educational activity book to help young children learn all about the Pope. This book was designed for all ages with 28 pages of fun learning and entertainment; this book will certainly educate an entire classroom of students for many hours. The high quality US-made book retails on the company website for $5.99 and is also available at wholesale prices for churches, schools, bookstores or any group.
Shortly after debuting the book in late 2014 company officials began receiving notifications from local residents, churches, several Cardinals, including New York Cardinal Timothy Dolan and even Pope Francis via The Secretariat of State of Vatican City.
Really Big Coloring Books®, Inc., headquartered in St. Louis, MO, is a multi-national company providing quality children's teaching and learning tools and coloring book products for over two decades. Known for their market leading positions, the RBCB family of products are classic, colorful and unique. The company owns more than 1200 coloring book related domain names in several countries and is a trend-setting leader in the coloring book industry.
All the RBCB company products are manufactured in the U.S.A. To find out more visit: http://www.ColoringBook.com or call 314-725-1452.
"Pope Francis Gives Assurance of a Remembrance in his Prayers and Sends His Blessing" Regarding The Holy See Coloring and Activity Book--from letter signed by Monsignor Peter B. Wells Assessor Secretariat of State from the Vatican dated 6/19/2014