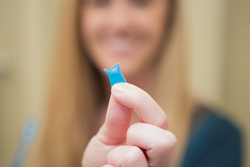 Our softgel pods are a revolutionary way to use toothpaste. It's more hygienic, dentists love it, kids love it and it is better for the planet.
Ft. Lauderdale, Florida (PRWEB) May 27, 2016
Poppits is a breakthrough in toothpaste. The tiny water-soluble pods of toothpaste and packaging are the first ever to contain no plastic parts that tend to take over 500 years to decompose. The paperboard packaging that Poppits uses is made from sustainable sources to biodegrade in a few weeks. This means that after use, the entire product disappears, leaving no footprint.
Kids and parents alike love Poppits because each edible pod contains real toothpaste with the dentist-recommended amount. The Kids Poppits™ pack contains three fun fruity flavors and colors making brushing a task that is fun. For adults, there are mint-flavored Whitening Poppits™ for a fresh, bright smile. Not only is Poppits ideal for kids and adults, but Poppits is in talks with multiple organizations to make brushing teeth easier and more convenient.
"We are currently in talks with NASA regarding the possibility of using Poppits aboard the International Space Station. They said using Poppits aboard the International Space Station will be more practical for astronauts to use and efficiently reduce payload weight. We are very excited about this proposal. 'Launching our product' could have a whole new meaning," said Wayne Solan, CEO of Poppits.
"Traditional toothpaste tubes have been around for over 100 years", said Alan Daly, Poppits Marketing Director. "Our softgel pods are a revolutionary way to use toothpaste. It's more hygienic, dentists love it, kids love it and it is better for the planet. Not to mention there's no more of that gunky residue that builds up on the nozzle of squeeze tubes. My kids absolutely love these things. They actually ask to brush their teeth. We've had great feedback from families all across America."
Solan and Daly were pals at school in Dublin, Ireland and never thought they would end up starting a business together in America. With opposite personalities, Solan is the creative and talkative one while Daly is the quiet artsy­ one. Fast forward about 15 years, here's how Poppits were invented.
Solan invented Poppits in his bathroom after he had guests visit him at his home for the weekend. When cleaning the guest bathroom, he was wondering why there was so much toothpaste on the sink. He realized that kids often struggle to put the right amount of toothpaste on their toothbrush and thought there must be a better way to get the job done. He thought toothpaste should come in something better and determined that a small pod of toothpaste that melts in the mouth would be better and more effective for both kids and adults.
Poppits recently launched a Kickstarter campaign to raise enough funding for manufacturing. Be one of the first to try this innovative toothpaste by pledging here: bit.ly/PoppitsKS.
ABOUT POPPITS TOOTHPASTE PODS
CEO Wayne Solan initially invented the product as a way to make it more fun for kids to brush their teeth. He soon realized that there was a much larger use and appeal. This eco-friendly delivery system can be applied to other consumer goods to eliminate plastic pollution. To learn more about Poppits, please visit http://www.poppitstoothpaste.com.