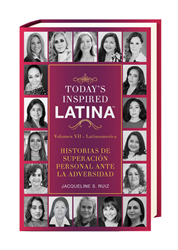 "I'm very proud to be presenting Volume VII—the first Latin American edition to Spanish speaking audiences— as well as Volume VIII. During these trying and difficult times, I know audiences will find inspiration in these uplifting and powerful stories."
NORTH AURORA, Ill. (PRWEB) November 12, 2020
In just two months, the Today's Inspired Latina book series has virtually launched two new volumes of more inspiring stories. "Today's Inspired Latina Volume VII: Historias de Superación Personal Ante Adversidad" is the first volume done entirely in Spanish.
This volume, available on Amazon, features 18 Latin American authors. The new authors featured are: Gloria Abundis, Angelica Martinez, Lucy Ponce, Claudia Rodriguez, Carlotta Hernández, Stella Palacio, Laura Hender, Florissa Yanes, Felicitas Esparza, Danny Zapata, Ana Goffin, Luz María Díaz García, Erika Barajas, Nereida Herrera, Maria de los Angeles Benitez Celis, Silvia Rios, Maria Socorro Garcia and Maria Laskowski.
"Today's Inspired Latina Vol. VIII" has 20 authors. These authors are Abigail Silva Michel, Jacqueline Bouvier, Scarleth Lever, Leslie Regalado, Vany Hernández, Elisa Marquez, Damaris Samolinski, Monse Moreno, Angelica Baez, Gabriela Gomez, Araceli Zanabria, Patricia Mota, Araceli Zanabria, Evelyn Rodriguez, Maricarmen Ortiz-Conway, Lisba Romo, Patricia Hernández Figueroa, Nancy Scovotti, Monika Alvarez, Andrea Rios McMillian, and Alexandria Rios Taylor.
The book series showcases the poignant collection of stories from 190 Latina authors all over the world. These special authors share their experiences of overcoming language barriers, self-doubts, and other obstacles to succeed in their work and personal lives. Since 2015, the series has become an international movement with a presence around the United States, Mexico, South America, and Europe.
Jacqueline S. Ruiz, director of JJR Marketing, Inc. and Fig Factor Media Publishing and the publisher of Today's Inspired Latina book series, received much positive feedback from readers and authors in doing a volume completely in Spanish.
"I'm very proud to be presenting Volume VII—the first Latin American edition to Spanish speaking audiences— as well as Volume VIII." she said. "During these trying and difficult times, I know audiences will find inspiration in these uplifting and powerful stories. I'm also very proud to have my Mom Felicitas Esparza as one of these special authors for Volume VII. She is the one who has witnessed the magic over the years with this book series. She's told me how this series was getting bigger and bigger each year and if I understood this. Well, I do understand and we are continuing to attract more readers around the world."
Ruiz is already planning to launch future volumes into the new year. For more information about Today's Inspired Latina, visit http://www.todayslatina.com.
For more information about Ruiz, visit http://www.jackiecamacho.com/
Today's Inspired Latina
8 Books: 190 Authors: 1 Common Dream
A Today's Inspired Latina™ is an award-winning book series of inspiration and hope, a poignant collection of personal stories that will activate your passion. The series is the largest collection of stories in a book anthology series in the world with 190 to date in eight volumes. These are success stories that need to be told, to motivate our community for generations to come. By overcoming language barriers, self-doubts and other obstacles in their way, these strong Latinas are a great example of how inspiration and perseverance can lead you to happiness and success in business and life. It's a positive, empowering read for anyone sitting on a dream and thinking it can't come true. Today's Inspired Latina™ shows that it can! For more information, visit:http://todayslatina.com. ###