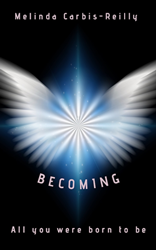 "A mystical patchwork of a story that builds and culminates into a satisfying reveal that will make your heart race and your skin tingle."
REDHEAD, Australia (PRWEB) November 09, 2021
From the ills of racism, to terrorism, and even the so-called "Great COVID Divide," evidence for humanity's division seems stronger than ever. Amid the cacophony, a voice is crying out to defend the inherent goodness of the human person, the interconnectedness of the human family, and the beauty of "being." Author Melinda Carbis-Reilly's new book conveys all of this without argument, debate, or polemics. Instead, she relies upon an ancient and primal medium—story.
'Becoming' is Carbis-Reilly's first work of fiction. Inspired by events from her own life, the mystical story follows the unfolding paths of three women from different worlds as they work through suffering, searching for meaning and purpose in life. They discover their destinies are mysteriously and tightly interwoven.
'Becoming,' reveals the beauty of life, even amid the darkest hours. Yet, Carbis-Reilly is neither naïve nor a Pollyanna. She lost her first son at seven months old, her stepson to suicide, and has suffered depression for the past six years.
"I know heartache, and I know pain," said Carbis-Reilly. "I choose to continue to see life working for me, not against me. I want to help people feel hope regardless of the terrain they're facing. It's not about denying or fighting what's happening. It's about rising above it." As a character in the story explains, "You don't choose what you see—you only choose the lens you see it through."
After two decades of working in the wellness industry, and a lifelong commitment to health and spiritual development, Carbis-Reilly began the book as a self-help guide about loving life in all its ups and downs.
"The words weren't flowing as easily as I had anticipated. I was also growing tired of self-help books, after decades of being an avid reader of them," admits Carbis-Reilly. "I felt they were all starting to sound the same and I didn't want to keep punching out the same song," she said.
At that point, she changed course, and began conjuring a cast of characters to share the teachings she found most profound. The result is a tale that touches the reader's heart more powerfully than a didactic self-help treatise ever could.
A reviewer of 'Becoming,' called it, "A mystical patchwork of a story that builds and culminates into a satisfying reveal that will make your heart race and your skin tingle."
'Becoming' will appeal to anyone trying to make sense of the shambles of their life. Those searching to make sense of their human experience or hold on to hope in turbulent times will find themselves buoyed by the message. It will help readers strengthen their resilience and give them faith that life is ultimately working for them, rather than against them.
"I wrote the book for soul seekers," said Carbis-Reilly. "It's for those who know there's something more to them than flesh and bone."
Crossing continents and cultures, material and spiritual realms, and even multiple lifetimes, the characters in 'Becoming' learn of their interconnectedness. They discover that, at root, everyone faces a similar challenge—becoming all they were born to be.
"The open secret of 'Becoming,' is that it's not about the characters," said Carbis Reilly "It's a story about you."
'Becoming' is published by eBookIt.com in both ebook and paperback, and is available from Amazon.com and other popular online booksellers.
About Melinda Carbis-Reilly
Melinda Carbis-Reilly is a naturopath, author, yoga teacher, wellness & fitness coach, speaker, reiki healer, entrepreneur and mama & step-mama to six children. She is the author of several books, including 'Diggin' Your Dark Side,' 'The Happy Diet,' and 'The Natural Path." Visit her website at melindareilly.com.au.
About eBookIt.com
Since 2010, eBookIt.com (based in Sudbury, Massachusetts) has helped thousands of authors and publishers get their books converted to ebook format, and distributed to all the major ebook retailers, including Amazon.com, Barnesandnoble.com, Apple iBookstore, Kobo, Scribd, Ingram Digital, and Google eBookstore.