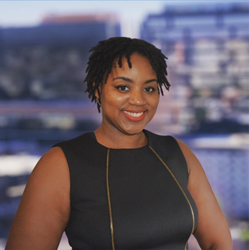 TROY, Mich. (PRWEB) November 21, 2022
Earlier this year, Populus Group added an exciting and necessary role to their community – Head of Diversity, Equity, and Inclusion (DE&I). As a Minority- and Veteran-owned company, DE&I has always been part of who they are and drives their core purpose – that everyone deserves the opportunity to succeed.
Like many organizations, they've created a more intentional focus on our DE&I efforts over the past few years, and adding this role is one of the key commitments they've made for 2022. Populus Group announces the promotion of Taniesha Thomas to the role of Head of DE&I.
Mario Lambert, Populus Group's Vice President of Sales, states: "We are thrilled to have Taniesha's authentic voice and leadership in this role to help us elevate our impact in DE&I".
When asked, "In your opinion, what's the most important problem to solve in the DE&I space right now?" Taniesha Thomas responds, "One of the most important problems to solve right now is making sure we take the topic of Diversity, Equity, and Inclusion from a moment to a movement. We've seen an increase of DE&I professionals being brought into organizations off the heels of some very turbulent social justice events happening around the nation. It's important that we lean into these roles as strategic advisors and continue to move our organizations away from being reactive and instead being proactive and visionary."
As Head of DE&I, Thomas will be responsible for building out PG's Employee Resource Group (ERG) program by aligning them to their 3 focus pillars: People, Partners, and Purpose. She will also harness DE&I data for assessment and transparency, both internally and externally. In addition, she will work closely with Populus Group's DE&I Council to reignite partnerships in the community, and ultimately help serve underprivileged youth and veterans both locally and nationally.
"Taniesha is an extremely passionate person, especially when it comes to fostering a diverse, equitable, and inclusive community for everyone here at PG and extending that beyond our walls to our customers, partners, and contract employees" shares Karen Philbrick, VP of HR at Populus Group. "We couldn't be more excited to have her leading the charge."