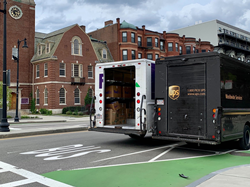 As cities and mobility services evolve, increasing pressure is being placed on transportation infrastructure - prompting cities around the world to adopt new policies and strategies.
SAN FRANCISCO (PRWEB) August 20, 2020
Today, Populus has released a new report for cities and operators on Curb and Mobility Management: The Role of Pricing, Incentives, and Data for Improving Curbside Utilization in Cities.
As cities and mobility services evolve, new demands on city transportation infrastructure have put increasing pressure on the need to dynamically manage how public space is allocated. From the significant growth in delivery services to requests from restaurants to access curb space for outdoor dining, city departments of transportation are on the frontlines to reconfigure our streets and sidewalks for different use cases.
This report includes results from a survey on the mobility policies of 40 cities around the world. Many municipalities have adopted regulations to manage micromobility services, such as dockless scooters, bikes, and mopeds, including fee and incentive structures to fund bike lanes and scooter parking.
In many ways the complex policies for pricing, fees, incentives, and data-sharing for micromobility have become a model for how cities should seek to manage other larger vehicles, including delivery services, that currently access and use city infrastructure. The report outlines historical as well as more recent innovative strategies for curbside management to help cities manage their mobility future.
"The explosion of new use cases for city streets and curbs over the past ten years highlights the importance of innovative approaches in the public sector to manage how space in cities is used," said Regina Clewlow, CEO of Populus and a co-author of the report. "Populus is committed to supporting the digital transformation of cities with new solutions that empower them to effectively serve their communities."
Earlier this year, Populus also began supporting cities around the world to dynamically manage flexible street policies. As many cities have made bold moves to close streets to cars and created much needed space for bikes, pedestrians, and outdoor dining, the Populus platform helps departments of transportation digitally communicate street changes with the general public and key mobility stakeholders. By delivering advanced technology solutions, Populus supports innovative city leaders who are leading the way in mobility management.
ABOUT POPULUS
The Populus platform helps cities and private mobility providers deliver safe, efficient, and equitable streets. Populus is a comprehensive digital solution that empowers cities to manage their curbs and streets, as well as to develop data-driven policies with access to data from fleet operators, including shared bikes, scooters, and cars. Founded by transportation PhDs from MIT and UC Berkeley, the Populus team combines over 30 years of experience building software for public agencies to plan for the future of transportation. Learn more at populus.ai