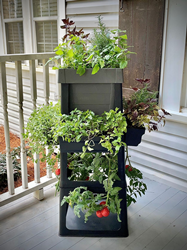 Now anyone can create an abundant flower or edible garden even in the smallest of spaces
SHREVEPORT, La. (PRWEB) January 06, 2023
PopUp Garden is the solution gardeners have been asking for! Perfect for urban dwellers in confined spaces, seniors who have downsized, or gardeners with limited space, PopUp Garden's Essential and Deluxe 3-tier modular systems make gardening in small spaces easy and fun. Its compact size and hassle-free setup can quickly turn any small outdoor area into a flourishing garden plot.
"Now anyone can create an abundant flower or edible garden even in the smallest of spaces," says Matt Vienne, co-founder of PopUp Garden. "Our square-design systems tuck into any corner with ease; whether you're a young family with limited time and space or living in a townhome or assisted living facility, you can grow food and flowers without a yard."
Sleek, durable, and lightweight, the PopUp Garden system arrives at your doorstep with everything you need to start gardening on the fly. No tools are necessary to assemble a PopUp Garden. Unpack it, stack it, and start growing in minutes on your patio, balcony, or front porch.
PopUp Gardens produce a maximum yield of organic veggies, fruits, and flowers with upward and downward growth in the same planter. The 100% recyclable and BPA Free rugged black plastic is sleek and will blend into almost any garden style. No bending, reaching, or stretching, makes this design perfect for full accessibility for anyone and everyone.
The Deluxe 3-tier modular system also comes with four side trays, allowing for growth around the interlocking sections, making more room for your plants of choice. Fully assembled, the Deluxe PopUp Garden is 40 inches tall and fits in a 17x17 inch area. This system allows gardeners to grow plants up, down, and around, increasing potential crop yield in the same space by 245%.
The PopUp Garden isn't just for experienced gardeners – it's perfect for beginners too! The included step-by-step instructions make it easy to get started, and the system's compact size means you don't have to worry about the garden becoming overwhelming. So, let's get gardening!
Visit http://www.mypopupgarden.com to learn more and order yours now.
# # #
About PopUp Garden
PopUp Garden is a revolutionary new gardening concept with humble beginnings set in a weekend cleanup of a Louisiana garage of a suburban family of six. This vertical solution allows people to grow their own herbs, vegetables, and flowers in small spaces, such as balconies, rooftops, and patios. We believe that everyone should have the opportunity to experience the benefits of gardening.