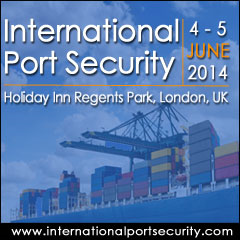 London (PRWEB UK) 19 May 2014
SMi would like to announce Sonardyne International has joined the 5th annual International Port Security conference taking place in under 3 weeks' time on the 4th and 5th June 2014, London.
Nick Swift, Business Manager: Maritime Security will present on Day One of the conference and his presentation will focus on: Closing the surveillance gap.
Abstract: Surface surveillance systems are now commonplace, integrating diverse above ground sensors to provide an integrated surveillance capability. However, underwater threats are rarely considered when installing waterside protection systems and so many surveillance systems have a vulnerability that can be easily exploited.
Sonardyne's Sentinel system is an underwater Intruder Detection system that plugs the capability gap of surveillance systems and significantly reduces the risk to waterside assets. Critical national infrastructure is frequently built adjacent to the shoreline and providing a comprehensive security system which includes a subsea surveillance capability is becoming a key requirement. Click here for further details.
The presentation will discuss:

The threat profiles
Described the requirements that sonar based IDS can be address
Difference in sonar sensor to surface sensors
Installation methods
Performance of the systems, and how performance can be affected
Network with the following confirmed attendees at International Port Security:
BAE Systems, Dextera Global, Dubrovnik Port Authority, Embassy of Saudi Arabia, EU Commission, G4S Security Services, Greenwich Maritime Institute, International Maritime Organisation, Los Angeles Port Police, Marine Risk Management, Maritime Command Northwood, Minetech International, NATO Specialist Team on Harbour Protection, PGI Training, Port of Antwerp, Port of Dover, Port Of Gothenburg, Port of Hamburg , Port Of Liverpool Police, Port of London Authority, Port of Santos - Brasil, Portuguese Navy, Royal Oman Police, Saudi Ports Authority, Swedish Armed Forces, The Mariner Group, The Ports of Stockholm, Transnational Crime Unit- Liberia plus many more.
Click here to view the full conference agenda.
Key reasons to attend:
2 keynote addresses from: Commander David Phillips, Chief Harbour Master, Port of London Authority and Chris Trelawny, Senior Deputy Director, International Maritime Organisation
12 international ports speaking throughout the two day conference including key nations: Europe, West Africa, USA, Middle East and many more.
Interactive Panel Discussion on: How secure are America's seaports and the global cargo system that delivers foreign goods to them? Panellists include EU Commission, Los Angeles Port Police, Maritime Command Northwood, Marine Risk Management
Key presentations to cover: Maritime security in territorial waters, Global Counter Piracy, EU Port Security Legislation, Security Challenges, Case study on: Securing London during the Diamond Jubilee and the Olympics in 2012, Corruption at ports
Network with an unrivalled array of stakeholders within the community including industry leaders and port operators
Please visit the website or contact James Hitchen on: +44 (0) 20 7827 6054 or email jhitchen(at)smi-online(dot)co(dot)uk for further information.
About SMi Group
The SMi Group is a highly professional, independent and global event-production company that specializes in Business-to-Business Conferences, Workshops and Masterclasses, and online Communities. The SMi Group creates and delivers events in the Defence, Security, Energy, Utilities, Finance and Pharmaceutical industries. For more information, please visit http://www.smi-online.co.uk.