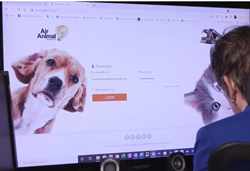 These innovations let Air Animal Pet Movers de-stress thousands of family pet moves every year. --Walter M. Woolf, founding veterinarian and CEO
TAMPA, Fla. (PRWEB) October 21, 2021
It's tough to innovate in any industry. For Air Animal Pet Movers integrating a web request form, their CRM database, move itineraries and a client portal was a big investment. None of these innovations existed in the pet moving industry. The improvement didn't happen overnight. In fact, it took five years.
In 2021 information flows seamlessly. The new tools are easy for clients to use and understand. Here's the back story.
First, Air Animal improved its front door.

Potential clients share a lot of information to get a pet move started. To do that they now use a secure web form. The widget has a completion bar and shorter sections. The widget increased online completion rates.
Air Animal also streamlined client services and pet move manager assignment procedures.
Second, they set the table to welcome guests.

Emailing relocation information back and forth was never very secure or easy. Sometimes emails didn't arrive, data was missing or there were data entry errors. Clients said they expected security and easy access. Five years ago, Air Animal built a secure Air Animal Pet Move Portal with companion apps. It was a significant investment and learning experience.
Air Animal learned that apps are difficult to maintain and code. The environment is always changing.
Last year Air Animal dropped the apps and upgraded to a secure portal. It works with all desktop and mobile browsers and it's easier to support.
Clients now automatically receive an encrypted link to access the portal.
When they sign on the first time, all their web request form data and information they shared with their pet mover is already in the portal.
They can update their origin, destination, pet information and veterinarian at any time. Their pet's flight data and air waybill are there too.
They can upload photos or documents for access any time during the move.
The portal also features a tracking system for pet parents to see where their pet is during the move.
Next, Air Animal invited everyone to the party

Client survey results asked for frequent itinerary updates. Some moves are complex and take more than six months to plan and execute.
Air Animal developed PAWS™ updates that automatically email to every client every other week.
Every PAWS email has a link to the client portal—that's a second invitation to join the portal.
PAWS lists completed items and information still needed in the portal. It also lists next steps such as veterinarian visits.
PAWS emails have increased the number of clients using the portal and improved client satisfaction ratings.
These innovations let Air Animal Pet Movers de-stress thousands of family pet moves every year. They call that Pet Moving Made Easy®.
About Air Animal
Air Animal has helped more than 55,000 families move their 110,000 furry, feathered and scaly pets around the globe since 1977. They welcome pet move authorizations and referrals from major corporations, relocation management agencies, household goods movers, veterinarians, families, U.S. military and government transferees. Get the best in animal care and transportation. Air Animal is an appointed and endorsed IATA air cargo sales agency working with all airlines that move animals. They are an Indirect Air Carrier cleared for tendering live animals to airlines by the U.S. Transportation Security Administration. See airanimal.com to learn more about Pet Moving Made Easy®.