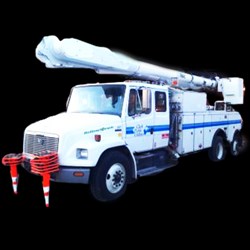 Portland, OR used bucket trucks, forestry equipment, & vehicle public auctions are a great place to get a good deal with no reserve!
Portland, OR (PRWEB) January 20, 2014
JJ Kane today announced their large public auction in Portland, OR Jan 29th 2014 when more than 300 items will be sold. Auction items include many used bucket trucks for sale, in addition to digger derricks, forestry/tree care equipment, service trucks, cars, vans, pickups, forklifts and much more! Many items are being sold by local companies and utilities such as: City of Portland, Clackamas, County OR, Clark County Public Works, Clark Public Utilities, and many others.
Buyers do not have to be dealers to bid as this auction is open to the public with live bidding starting at 9 a.m. Wed, Jan 29th. Bidders can inspect auction equipment and vehicles on Tue Jan 28th, 8 a.m. - 4 p.m. and also at 7a.m. on auction day, Jan 29th. Items are added to the auction daily, and the auctions are held in Portland, OR several times a year. People looking for a good deal on used bucket trucks, digger derricks, work trucks and other equipment are encouraged to sign up for weekly email updates to stay informed of upcoming auction dates.
Location and Directions
The auction sale will be held at a New Location, 1940 N. Victory Blvd., Portland, OR 97217.
From Portland International Airport: Head East to I-205 South. Follow I-205 South to Exit 21-B, I-84 West (toward Portland). Proceed on I-84 West approximately 5 miles and take I-5 North (toward Seattle). Proceed on I-5 North approximately 4.5 miles and take Exit 306-B (Victory Blvd Expo Center). Go Left off Ramp and proceed under both overpasses. Turn Right on North Expo Road (toward Portland International Raceway). Proceed on North Expo Road and then turn Left onto North Broadacre Street. Proceed 1/4 mile to auction site on Right.
FROM I-5 Headed South: Take Exit 306-B (Interstate Ave, Portland International Raceway Exit) and stay in the Delta Park-Portland Meadows lane. Proceed straight through the Stop Sign on North Expo Road. Turn Left onto North Broadacre Street. Proceed 1/4 mile to auction site on Right.
J.J. Kane is well-known for used bucket truck and utility equipment auctions. However, their auctions also feature many used one- ton pickup trucks, work vans, cars, SUV's and more. One of the benefits of this auction is that you do not have to be present to participate. Bidding can be done online, or you can leave an absentee bid. The auction company is very helpful to bidders and sellers through every step of the process.
JJ Kane auctions are absolute, meaning that everything sells to the highest bidder, regardless of price. There are no minimums, or reserves, at an absolute auction, and owners are not allowed to bid on equipment they have consigned to the auction. The selling price is determined by the bidders participating in the auction. This auction offers direct access to used forestry and utility equipment for sale. It differs from many other auctions in that you don't have to be a dealer to buy. Anyone can register and connect directly with buyers and sellers through this auction company, helping both parties to exchange equipment at a fair price.
"At JJ Kane, we care about our buyers and sellers as we provide the services that are important to both in a way that is most convenient for them. Sellers benefit from a convenient and cost-effective way to sell equipment for competitive market value. Buyers can kick the tires and inspect items personally, or if they prefer, they can make purchases online without the time and expense incurred with traveling to an auction," says Joe Kane, founder of J.J. Kane Auctioneers.
About J.J. Kane
J.J. Kane Auctioneers was founded more than 20 years ago by Joe Kane with a philosophy to provide the best vehicle to take care of the customer and is based on a foundation of family, strong values and relationships. These values continue today, making J.J. Kane one of the more successful auction companies servicing buyers and sellers of used construction equipment in the U.S.