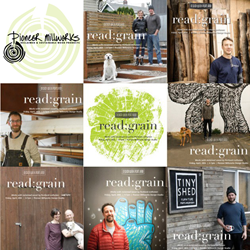 The Read:Grain challenge by Pioneer Millworks was a great experience; from picking out reclaimed wood from the mill to chatting with other artisans to creating a piece we've been sketching for years.
Portland, Oregon (PRWEB) May 18, 2017
Pioneer Millworks provided a platform for eight local Portland artisan makers to celebrate the story of reclaimed wood and their craftsmanship during Design Week Portland (DWP). Following a theme of 'Read:Grain,' each maker's creation was on display during the Pioneer Millworks Open House in the SE district in late April.
"Pioneer Millworks has been reclaiming wood for 25 years and to 26 million board feet. We're psyched to have supported these craftspeople by offering them the wood, the space to share, and a small stipend with which to explore," said Jonathan Orpin, Founder of Pioneer Millworks. "The resulting creations are as varied as the wood and the makers themselves."
Each local artisan shared their interpretation of Read:Grain during the Open House event, showcasing:

An adjustable bench by Branches Furniture – Joel & Alyse Knudsen
Sash table by Global Homestead Garage – Philip Krain
Bench with shelving by Makers Woodworks – Garrett Michael
Table by New Energy Works Timberframers – Jonathan Taylor
Gaming table by Tiny Shed – Jordan Saia
Folding chair and folding lamp by Wessinger Woodworks LLC – Bill Wessinger
Heavy timber lamps and card holders by Work-PDX – Henry Silvestrini
Bar cart by Zenbox Design – Bryan Danger
"It was awesome to meet so many other talented makers and designers at the event. As a fabricator, I rarely get the chance create something without stipulations or limitations. I really appreciated the opportunity to design a product that wasn't intended to make money or fit into a specific space. I got to build exactly what I wanted (which doesn't happen often). It wouldn't have happened without the Pioneer Millworks team and we all appreciate it!" shared Henry Silvestrini of Work-PDX.
The artisans displayed within the Pioneer Millworks Design Studio, situating their piece, or pieces, while speaking to visitors during the Open House. "The DWP event hosted by the team at Pioneer Millworks was a great experience for us on all fronts; from picking out wood from the enormous mill to chatting with other artisans to literally being inspired to create a piece we've been sketching for years. We look forward to integrating their reclaimed materials into upcoming projects!" said Bryan Danger of Zenbox Design who displayed their custom bar cart crafted using Reclaimed American Gothic Oak.
Joel Knudsen of Branches Furniture commented, "Working with Pioneer Millworks to design and build an original piece of furniture for their Design Week open house was such a great opportunity for us to not only work with superior reclaimed material but to broaden our audience. Meeting and talking with all the folks at the open house gave us the chance to introduce our work to new people and to make meaningful connections with other Portland makers." Joel presented a custom bench made with Black & Tan Reclaimed Oak featuring padded, adjustable seating.
Open House attendees also toured the Design Studio where they were able to explore reclaimed wood samples including timbers salvaged from Centennial Mills, to wine vat planks from local wineries, and more. Reclaimed Wood Design Experts were on-hand to answer questions and to share the latest trends in designing with reclaimed wood. "The event was fantastic. We specialize in flooring and paneling products, but reclaimed wood is suitable for a variety of different applications so we were thrilled to offer an opportunity for folks to see other possible uses for reclaimed wood," explained Elise Payne, Oregon Reclaimed Wood Design Expert at Pioneer Millworks.
About DWP:
Design Week Portland is a week-long, city-wide series of programs exploring the process, craft, and practice of design across all disciplines. Our mission is to increase appreciation and awareness about design and its far-reaching effects on matters of cultural and social relevance, including community development, education systems, and the economy.
About Pioneer Millworks:
Pioneer Millworks is the leader in the reclaimed wood industry. To date, the company has rescued nearly 26 million board feet of old wood from rot, landfills, and other sad endings. From the hand-hewn agricultural and industrial timbers America was built on to weathered planks and mineral-cured vat stock, their craftsmen give this extraordinary wood new life as flooring, paneling, millwork, and cabinetry. The salvaged wood is re-manufactured in a way that's healthy for customers, employees, and the environment. Pioneer Millworks is FSC certified and Green America approved. All of its products are LEED point eligible.