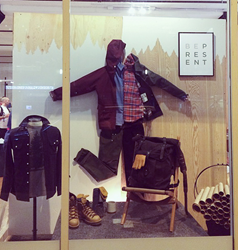 Competitors represented the maker-mindset and showcased the product with an elevated presentation of their crafts.
Portland, Oregon (PRWEB) October 09, 2014
IDL Worldwide hosted a Retail Window Merchandising Competition on Monday, October 6, 2014 from 4-8PM in support of Design Week Portland, a week-long design celebration featuring a series of interactive events, exhibits and lectures. More than 200 guests attended to watch as four design teams, each comprised of six individuals, competed to complete a store window curation.
Participants included creatives, design students and public participants, as well as special guests and industry leaders from Nike, SGK, local artist Antonio Brasko and local chef and restaurateur, Jason French of Ned Ludd. Each team had two and a half hours to complete the challenge with a provided kit of visual merchandise tools, which featured merchandise ranging from apparel to fashion accessories and housewares, in addition to mannequins, display blocks, graphic components, and props.
"Our Design Week event was a really fun, engaging way to bring our creative spirit to life, while engaging a broad spectrum of the Portland creative community. Seeing our windows come to life through the efforts of this broad cross section of design and creative talent was truly inspiring," shared Alex Vera, IDL Director of Client Services.
The winner of the event was determined per the votes of those in attendance, and was awarded to the group whose window showcased Portland's appreciation of outdoor adventure and rustic charm. The window featured product from Bridge & Burn, Mazama Ceramics, Tanner Goods, and Schoolhouse Electric. "The event was a showcase of the best that Portland has to offer. Competitors represented the maker-mindset and showcased the product with an elevated presentation of their craft," said Kimberly Brandt, Agency Project Manager.
The curated windows will be featured in the windows of IDL's designated gallery space, Gallery 153, through the duration of Design Week, Saturday, October 11, 2014. Product sponsors included: Tanner, Grayling Jewelry, Schoolhouse Electric, Bridge and Burn, Mazama Ceramics, Haunt, Kate Towers and Adorn.
To learn more about the remaining Design Week Portland events, visit http://www.designweekportland.com.