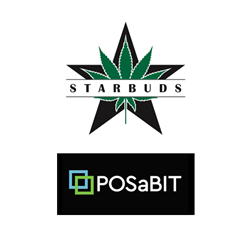 POSaBIT is the clear leader in providing an alternative to cash transactions.
KIRKLAND, Wash. (PRWEB) August 13, 2018
Locally owned and operated, Starbuds is home to an award-winning, top-notch selection and is one of North America's fastest growing cannabis brands. One of the first retail outlets to receive licensing when Colorado legalized cannabis for recreational use, Starbuds generated over $50 million in revenue in 2017. They pride themselves on providing the best customer experience, giving back to the community, and have aggressive expansion plans in other US states as well as Canada.
"POSaBIT is the clear leader in providing an alternative to cash transactions," said Josh Riggs, COO of Starbuds. "Their compliance framework, seamless consumer experience, and easy-to-use system make POSaBIT an easy choice for our stores."
POSaBIT's unique and innovative payments approach enables customers to acquire cryptocurrency through a dedicated console and spend it where the POSaBIT system is installed. Customers can also choose to spend their digital wallet in any retail environment that accepts cryptocurrency.
"POSaBIT is pleased to work with the Starbuds brand in Colorado," said Jon Baugher, Chief Revenue Officer and Co-Founder of POSaBIT. "Starbuds is committed to putting the customer first and has created a superior consumer experience. We are proud to align with them around that objective by expanding payment convenience in all of their locations."
The POSaBIT payment solution has benefits for state-licensed store owners and their employees beyond simply providing convenience for customers and a competitive advantage in the increasingly crowded recreational cannabis industry.
POSaBIT, Inc. is a financial technology company based in Seattle, WA. POSaBIT offers payment processing and point-of-sale systems to a wide variety of merchants and industries.