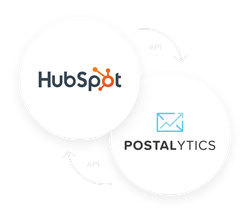 Triggering direct mail at different stages of the customer journey using automation makes sense for marketers that want to ensure their messages stand out.
ROCKLAND, Mass. (PRWEB) November 27, 2018
Postalytics announced that has released a major software update that enables HubSpot clients to easily create triggered direct mail campaigns using the new HubSpot Workflow Extensions API. This announcement builds upon the recent trend of new technologies that are re-invigorating the use of direct mail by marketers as a tool that helps their messages stand out.
HubSpot clients can now setup automated Workflows to "drip" highly personalized direct mail pieces via Postalytics, using HubSpot Properties as personalization tokens. The new HubSpot Workflow Extensions API enables Postalytics to appear as an "Integration" right within the Workflow builder.
Postalytics CTO Alec Graziano led the product team that designed the new integration. "This update enables our HubSpot clients to setup personalized, triggered direct mail campaigns with just few mouse clicks. Using the new HubSpot Workflow Extension API made the development process a breeze."
"Our customers want to access the tools and services of the growing ecosystem of HubSpot Connect Partners right from within HubSpot Workflows," said Scott Brinker, VP Platform Ecosystem at HubSpot. "The new Postalytics triggered drip campaign integration streamlines the process of generating personalized direct mail as a part of our client's inbound marketing efforts."
Improvements in technology are driving a renewed interest in direct mail as a marketing channel for organizations of all sizes. "Although we don't endorse specific products, we're always excited to see new innovations that integrate direct mail with CRM and Marketing Automation tools," said Gary Rebin, Vice President, Product Innovation of the United States Postal Service. "Triggering direct mail at different stages of the customer journey using automation makes sense for marketers that want to ensure their messages stand out."
Learn more about the integration: Postalytics Triggered Mail Announcement Details
About Postalytics
Postalytics is a leading direct mail automation tool that is used by marketers to help them stand out from their competitors. By incorporating direct mail into the leading CRM and Marketing Automation platforms, Postalytics streamlines the creation, production and tracking of direct mail, turning it into a digital marketing channel that happens to print. Marketers use Postalytics to send postcards and letters at each stage of the customer lifecycle without needing to worry about printing, mailing, postage or any of the headaches of traditional direct mail.
Lean more at http://www.postalytics.com
About HubSpot
HubSpot (NYSE: HUBS) is a leading CRM, marketing, sales, and customer service platform. Since 2006, HubSpot has been on a mission to make the world more inbound. Today, over 41,500 total customers in more than 90 countries use HubSpot's award-winning software, services, and support to transform the way they attract, engage, and delight customers. Comprised of Marketing Hub, Sales Hub, the soon to be released Service Hub, and a powerful free CRM, HubSpot gives companies the tools they need to manage the customer experience from awareness to advocacy.
HubSpot has been named a top place to work by Glassdoor, Fortune, The Boston Globe, and The Boston Business Journal. The company is headquartered in Cambridge, MA with offices in Dublin, Ireland (EMEA HQ); Singapore; Sydney, Australia; Tokyo, Japan; Berlin, Germany; and Portsmouth, NH.
Learn more at http://www.hubspot.com