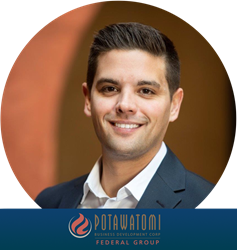 "This is the 3rd COVID-19 testing option in Potawatomi Support Services' COVID-19 Testing Solution." - Peyton Brauer, Senior Vice President PBDC- Federal Group
MILWAUKEE (PRWEB) October 30, 2020
Potawatomi Support Services, LLC (PSS) now provides FDA Emergency Use Authorized (EUA) rapid, COVID-19 Antigen Test Kits. The rapid Antigen Test Kits is the 3rd COVID-19 testing option PSS offers, including Rapid Antibody Test Kits and PCR testing.
PSS rapid Antigen Test Kits can provide test results in 10 minutes or less, with a minimally invasive nasopharyngeal specimen collection. Antigen Tests are produced at a much lower cost than conventional PCR testing, and other rapid Antigen Tests. PSS's rapid Antigen Test Kits do not require a separate machine for processing results. Each box comes with everything needed to perform, process, and read the results (20 test kits per box).
PSS has the rapid Antigen Test Kits and the rapid Antibody Test Kits available for immediate shipment. We offer a full COVID-19 testing solution from supplying the test kits as a stand-alone option, to providing full-spectrum testing services, licensed medical personnel, PCR testing, CLIA oversight, training, and reporting. Test kits are intended for Point of Care use, for surveillance and/or screening purposes.
About the Potawatomi Support Services:
Potawatomi Support Solutions is an SBA-Certified 8(a) subsidiary of Potawatomi Business Development Corporation (PBDC). As an American Indian Tribal (AIT) Corporation, PBDC-Federal Group provides Potawatomi Support Services with the corporate infra-structure, processes, and financial support of a much larger organization, allowing our customers to recognize the benefits while still maintaining access to small and agile Primes. As part of the PBDC family of companies, PSS shares common administrative services with each other. This support grants us access to human capital, well-proven processes, and a wealth of knowledge that spans over all twelve companies.