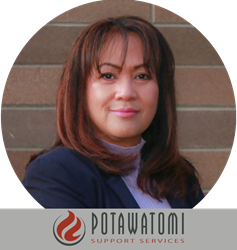 MILWAUKEE (PRWEB) September 28, 2020
Potawatomi Support Services (PSS) has teamed up with Beechtree Diagnostic, a CLIA-certified (Clinical Laboratory Improvement Amendments) high complexity lab, and can now perform rapid antibody screen testing and PCR confirmatory testing. Screen and confirmatory testing will include full CLIA oversight, training, and reporting. Potawatomi Support Services can now provide rapid testing kits to agencies to conduct their own testing for surveillance and risk management purposes as defined by the FDA. Potawatomi Support Services (PSS) has the rapid testing kit available for immediate shipment. In addition, Potawatomi Support Services offers a training video to assist in training your personnel to conduct the sampling and verify the results on-site within minutes.
Potawatomi Support Services' main goal is getting agencies and companies back to work by offering a comprehensive turnkey surveillance and screening (as defined by the FDA) solution for COVID-19 testing. Potawatomi Support Services' approach uses the FDA Emergency Use Authorized Healgen COVID-19 "Coronavirus" lgG/lgM Rapid Test Kit. The program is designed to administer rapid antibody testing kits in the field. This solution provides FDA- and CLIA-compliant, scientifically reliable surveillance or screen testing at a cost and speed that allows the organization to more accurately make decisions to manage the current health crisis.
Our Potawatomi Support Solutions FDA Emergency Use Authorized COVID-19 lgG/lgM Rapid test kits provide a cost-effective, timely, accurate, and reliable solution. Testing capabilities have evolved quickly through this crisis. There are two primary testing types: Antibody and PCR Testing. Unfortunately, there have been significant challenges with PCR testing, principally due to supply chain issues for test kits and reagents, causing significant delays and increased cost. Our rapid test kit allows organizations to conduct efficient surveillance testing or screen high numbers of patients quickly through a CLIA-certified lab, only confirming through PCR testing when patients are symptomatic or receive a positive screen result.
Agencies interested in purchasing these rapid test kits for surveillance and/or screening purposes for immediate delivery, contact Potawatomi Support Services.
About the teaming partners:
Potawatomi Support Solutions is an SBA-Certified 8(a) subsidiary of Potawatomi Business Development Corporation (PBDC). As an American Indian Tribal (AIT) Corporation, PBDC-Federal Group provides Potawatomi Support Services with the corporate infra-structure, processes, and financial support of a much larger organization, allowing our customers to recognize the benefits while still maintaining access to small and agile Primes. As part of the PBDC family of companies, PSS shares common administrative services with each other. This support grants us access to human capital, well-proven processes, and a wealth of knowledge that spans over all twelve companies.
Beechtree Diagnostics was established in 2015 to fill the gap left by other toxicology laboratories in providing quality testing, reporting and service to physicians and professionals dealing with the difficulties of Mental Health, Substance Use Disorder, Pain Management Treatment, as well as Court Ordered Substance Abuse Testing. Beechtree has created unique processes to directly benefit medical professionals and their patients. Beechtree is a CLIA certified and CAP accredited high complexity laboratory located in Utah and Alaska. Beechtree stands ready to support organizations with COVID testing requirements, using the CLIA high complexity certification to operate testing under the FDA Emergency Use Authorizations (EUA).