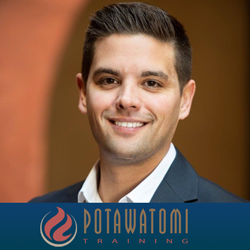 This certification, on top of Potawatomi Training's already stellar qualifications, provides our customers with a uniquely qualified and diverse company to fulfil multiple goals and missions." – Peyton Brauer, GM
MILWAUKEE (PRWEB) July 10, 2020
Potawatomi Training, LLC, a leading provider of training and instruction; flight and aircrew training; and intelligence operations support for both military and government agencies, announced today that it has been certified by the U.S. Small Business Administration (SBA) to participate in the Historically Underutilized Business Zone (HUBZone) program.
"We're excited about the addition of the HUBZone certification to provide our customers with dual credit, 8(a) and HUBZone, on awards made to Potawatomi Training for their socioeconomic goals. This certification, on top of Potawatomi Training's already stellar qualifications, provides our customers with a uniquely qualified and diverse company to fulfil multiple goals and missions." – Peyton Brauer, General Manager.
The HUBZone program helps small businesses in urban and rural communities gain preferential access to federal procurement opportunities. As a HUBZone certified company with a Small Disadvantaged Business designation, Potawatomi Training now has access to federal set-aside and sole source contracts, which in turn advances the federal government's effort to spur economic growth in certain areas. These preferences go to small businesses that obtain HUBZone certification in part by employing staff who live in a HUBZone.
Potawatomi Training is headquartered in Milwaukee, WI. For more information, please visit http://www.potawatomitr.com/.
About Potawatomi Training & PBDC
At Potawatomi Training, we take pride in taking on government contracts that serve a national purpose. With more than 20 years of experience to lean on, navigating the complex environment of government contracting is our forte, taking the pressure off our federal clients so they can focus on the mission that lies ahead.
As a subsidiary of the Potawatomi Business Development Corporation (PBDC), you'll have access to a small, highly responsive team with the leverage and resources of a large-scale corporation. And because we're an AIT, we can negotiate directly with the government, ensuring your agency always receives fair rates.
Potawatomi Training prides itself on its ethical business processes and expert-led teams. When the call of duty requires external support, you can trust the team at Potawatomi Training to provide exemplary contract performance.
LEARN MORE ABOUT POTAWATOMI BUSINESS DEVELOPMENT CORPORATION AND ITS PORTFOLIO OF SUBSIDIARIES AT http://www.potawatomibdc.com/