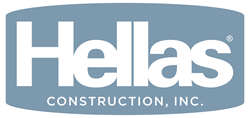 POTTSBORO, Texas (PRWEB) February 06, 2021
Last time Pottsboro Independent School District (PISD) renovated Jim Henderson Memorial Stadium was in 2009 and Hellas Construction was the company they choose to help them bring their dreams to life. Fast forward to 2021 when it was time to replace the turf that lasted 11 seasons the Pottsboro School Board returned to Hellas to upgrade the stadium. In a unanimous vote on January 20th the PISD approved Hellas Construction's proposal to replace the turf as Jim Henderson Memorial Stadium.
Matt Poe, Athletic Director Pottsboro ISD said, "We are extremely pleased to partner with Hellas for our new turf project. Our district chose Hellas for this project for their state-of-the-art product, installation and design. The addition of the Cushdrain® shock pad is a welcomed protection feature for our players."
This school board agreed to Matrix Helix® Turf, Cushdrain shock pad with Realfill™ Infill. Cushdrain adds a layer of protection for players under the field by reducing GMAX (the force experienced during a fall) over the course of three to four field lifecycles. Matrix Helix® Turf is made from the highest quality raw materials. These spiral-shaped monofilament fibers have a natural look and feel and are tufted into a triple-layer backing to secure the fibers in place. If properly maintained, Matrix Helix® Turf averages a 10-year lifespan before replacement is needed which is 25% longer than other turf brands.
Randy Bullock, Senior Vice President said, "It's a tremendous pleasure to continue a great working relationship with Pottsboro ISD and the Pottsboro community. Hellas Construction installed the original track and field back in 2009 and has never looked back. We are very excited to remove our original Matrix Generation 1 turf system and install our latest state of the art Matrix Helix turf system along with our Cushdrain shock pad."
Hellas Construction, which has a regional office at the Star in Frisco, TX, takes a turn-key approach to athletic facilities. Hellas owns and operates its own construction and installation equipment using its own crews. The firm also manufactures its own synthetic turf, track and court surfacing materials at three factories in the United States. These investments allow Hellas to meet the timing, budget, and quality demands of its clients without reliance upon third parties.
Hellas Construction, Inc. headquartered in Austin, TX, is the largest vertically-integrated sports construction contractor in the United States, specializing in the general construction of sports facilities and sports surfaces. Hellas champions innovative artificial turf manufacturing, base construction, field, track and tennis planning, along with installation and maintenance. hellasconstruction.com
Pottsboro Independent School District will provide an education program characterized by quality, equity, and accountability that will help our students build essential academic skills necessary for lifelong learning. By developing the ability to think logically, independently, and creatively each student will achieve a feeling of self-worth and the confidence required to conquer the challenges of our ever-changing world environment.