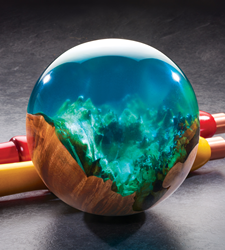 "The popularity of resin casting is just phenomenal."
PARKERSBURG, W.Va. (PRWEB) March 01, 2021
A $250 Woodcraft Gift Card may be waiting for you – if you create a showstopping ring, pen, handle, river table or something else made with resin or a combo like resin with burl.
"The popularity of resin casting is just phenomenal," Woodcraft President and CEO Jack Bigger said. "This contest is a chance for all the makers out there who savor the challenge of a competition and the pleasure of crafting by hand to see what they can do with resin, color and natural materials to create a prize-winning entry."
From March 1 through March 31, Woodcraft will accept online entries for "Pour to Win" – a competition to see who can imagine and then create a unique piece made by an original resin pour that will please the Woodcraft judges and the public. Once your creation is complete, take a picture of it and go to woodcraft.com/pour-to-win and follow the directions to enter it. The contest rules are also available on that page.
Woodcraft can help entrants with ideas, tutorials and tools, supplies and materials on woodcraft.com and Cast Resin Turning. Assistance is also available at the 70 plus Woodcraft retail stores.
Two Grand Prize Winners will be chosen, one by Woodcraft judges based on design, quality or workmanship and preference and one by popular vote on the contest page. Each winner will receive a $250 Woodcraft Gift Card and a Woodcraft Prize Pack that includes a Woodcraft T-Shirt, a Woodcraft Enamel Mug, a Woodcraft Sticker, and a Woodcraft Beanie.
Using the same criteria, Judges will also pick three Honorable Mention Winners, who will each receive a Woodcraft Prize Pack.
Only one prize per person and per household will be awarded. Winners will be notified at the email address they provide within five days of the end of the contest.
For more information about Woodcraft, contact the store nearest you, visit woodcraft.com or call (800) 535-4482.