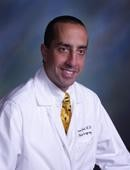 San Diego, CA (PRWEB) April 21, 2017
San Diego double board certified plastic surgeon, Tom J. Pousti, MD, F.A.C.S, of Pousti Plastic Surgery, is recognized as one of only 100 doctors worldwide to receive the prestigious 2016 RealSelf 100 Award. As an added step of acknowledgement for the award winning plastic surgeon, Dr. Pousti's photograph was prominently displayed under the bright lights of New York's Times Square this past month.
RealSelf has over 13,000 Board-Certified plastic surgeons, dermatologists and licensed cosmetic dentists included as part of their association, and is the world's largest consumer resource for plastic and cosmetic surgery information. Considered a top social influencer in plastic surgery and cosmetic medicine by RealSelf, the award and recognition to Dr. Pousti is given for his unwavering commitment to ensuring millions of patients make informed decisions about their cosmetic procedures.
With the highest number of doctor recommendations at 1,480 reviews, Dr. Pousti maintains a strong rating at 5 out of 5 stars and is regarded as a highly trusted and credible resource in the plastic surgery community. Additionally, Dr. Pousti offers his professional expertise to the online RealSelf patient community, having expertly answered over 43,000 questions from consumers since joining RealSelf in 2009. Dr. Tom Pousti is only one of six doctors throughout the United States to have received the RealSelf 100 Award each year for the past 6 years.
Dr. Tom Pousti, MD, F.A.C.S, is the chief surgeon and medical director of Pousti Plastic Surgery. He is double board certified in both general surgery, and plastic and reconstruction surgery. Dr. Pousti completed his plastic surgery training at Harvard University and trained with expert and world-renowned surgeons at the Brigham and Woman's Hospital in Boston, Massachusetts.
Pousti Plastic Surgery specializes in various types of cosmetic procedures, including breast augmentation, breast revision, fat reduction, body contouring, facial rejuvenation, and other types of revisionary surgery. Dr. Pousti sees patients from across the United States and around the world. He believes in individualizing every surgery to meet and exceed each patient's expectations.
For more information on these procedures, to read patient testimonials, or to learn more about Dr. Pousti and his San Diego practice, please visit their website at http://www.poustiplasticsurgey.com or call (619) 466-8851.
###