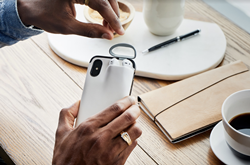 Power1 provides a complete all-in-one solution unlike anything else on the market.
BROOKLYN, N.Y. (PRWEB) August 01, 2019
After a successful campaign on Kickstarter, Power1 by AXS Technologies moves to Indiegogo's InDemand to continue accepting pre-orders of its revolutionary power management and protection device for iPhone and AirPods.
Employing a patented design, Power1 charges and protects both iPhones and AirPods, keeping them powered and together within one streamlined package. Power1's design keeps users' most important devices ready to go while offering high-level protection against accidental drops and impacts.
"iPhone and AirPods users, are looking for ways to keep their devices charged, secure and with them always," said John Merenda, Founder and CEO of AXS. "Power1 provides a complete all-in-one solution unlike anything else on the market."
Power1 is equipped with a 3000 mAh battery and a charging station that provides up to 30 AirPod charges, up to 34 hours of total talk time for iPhone X and XS and even more hours for XR and XS Max models. Utilizing a power transfer switch, Power1 gives the option to either charge AirPods only or the iPhone and AirPods simultaneously. Users no longer have to worry about losing battery life with Power1's intelligent power monitoring system that detects when to provide power to each device. Power1 is slim in profile, yet strong and durable to withstand accidental drops and impacts. Because Power1 provides a safe home base for AirPods, losing or forgetting them will become a thing of the past.
Power1 is available for iPhone X/XS, XR and XS Max models in addition to AirPods 1 and 2. Pre-ordering starts at $109. To pre-order, visit pr.go2.fund/power1.
About AXS Technologies
AXS Technologies is an innovative technology design company based out of Williamsburg, Brooklyn. AXS has developed a broad portfolio of domestic and international patents as well as a series of products that provide fundamental and unique solutions to some of the biggest problems experienced within the electronic device markets. For more information, visit https://gopower1.com/.