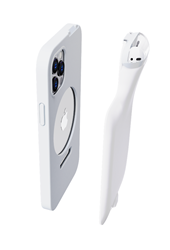 "We are honored and excited to be recognized by TIME as a Best Invention of 2021. Power1 was created to provide seamless management for iPhones and AirPods, and it's the only product on the market to offer on-device, all-in-one power and protection."
NEW YORK (PRWEB) November 22, 2021
AXS Technologies LLC announced it has been recognized by TIME as one of the Best Inventions of 2021.
"We are honored and excited to be recognized by TIME as a Best Invention of 2021," said John Merenda, CEO of AXS Technologies. "Power1 was created to provide seamless management for iPhones and AirPods, and it's the only product on the market to offer on-device, all-in-one power and protection."
Power1's new design features a magnetic, detachable power bank that wirelessly charges the iPhone and contains a patented AirPod charging station.
This new modular design gives users a wide range of use and charging scenarios. The phone can still be charged via most wireless chargers, in the rubberized skin and users can also directly charge the iPhone via open access to the lightning port.
A USB-C port simultaneously charges Power1's battery, the iPhone and AirPods. A transparent, protective door keeps the AirPods safe and secure. The PowerLock™ securing feature enhances the magnetic connection between the Power1 Module and the rubberized skin ensuring it won't slip when coming into or out of pockets and bags.
Users are in control of their device charging with a switch that directs the power traffic. Power mode-1 charges AirPods only while mode-2 charges the AirPods and iPhone together.
The re-designed Power1 is available for iPhone models XR, 11, 12, 12 Pro, 12 Pro Max, 13, 13 Pro Max and is compatible with AirPod versions 1 and 2. It can be pre-ordered at a discounted price of $99.95. Shipping will begin in Winter 2021.
For more information and to pre-order Power1 visit https://gopower1.com/.
About AXS Technologies LLC
AXS Technologies is an innovative technology design company based out of Williamsburg, Brooklyn. AXS has developed an extensive portfolio of domestic and international patents and a series of products that provide unique solutions to the charging, storage and protection of mobile devices. For more information, visit https://gopower1.com/.
iPhone, AirPod and Apple logo are registered trademarks of Apple Inc.