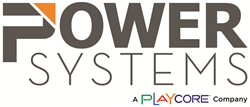 "We've partnered with Power Systems to create a line of fitness equipment and a programs that will help remove any excuse that prevents individuals from beginning a movement-focused lifestyle" said Spartan Founder and CEO Joe De Sena.
KNOXVILLE, Tenn. (PRWEB) August 31, 2018
Power Systems, a leading provider of fitness and performance products, and Spartan, the world's largest and obstacle race and endurance brand, have partnered in a shared mission to motivate 100 million people to get off their couches and get moving.
Obstacle Course Racing (OCR) has been on the rise since 2010, offering competitors a fun and complete physical challenge. Spartan saw the need and the opportunity to make OCR more accessible and has inspired millions to join the OCR movement.
Power Systems and PlayCore, its parent company, are dedicated to building communities through play and recreation. Josh Goldman, General Manager of Power Systems, stated "OCR is play and recreation for adults and Spartan has built a fun, excuse-free fitness community. Power Systems is excited to further Spartan's mission to motivate millions to embrace OCR to shake themselves out of the status quo."
"Spartan is more than a race; it's a way of life," said Spartan Race Founder, Joe De Sena. "We believe that signing up for a race creates accountability to start training and eating healthier. We have partnered with Power Systems to help remove any excuse for not to taking the steps towards a new movement-focused lifestyle."
The partnership with Spartan and Power Systems represents a shared mission to continue to grow the OCR community and empower more of our population to get off our couches and out of our comfort zones. Going forward, the teams will focus on shared opportunities to grow the OCR and fitness communities with Spartan Races, Power Systems products, and training programs to help everyone become Spartan Strong. Regardless of where you are in your fitness journey, Power Systems and Spartan invite you change your life through movement and set your sights on owning and overcoming your obstacles.