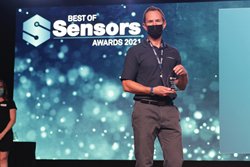 Our wirelessly-powered RFID Temperature Scanning System showcases the benefits, future opportunities and real-world practical applications of wireless power. Charles Greene, Powercast
PITTSBURGH (PRWEB) September 28, 2021
Powercast, the established leader in RF wireless power, today announced that its wirelessly-powered RFID Temperature Scanning System won the 2021 Best of Sensors Award in the program's COVID-19 category. Powercast's touch-free system enables businesses to easily and safely monitor employees' temperatures before entering their offices. The Best of Sensors Awards highlight cutting-edge achievements that are moving the sensors industry forward. Powercast's John Macho, Engineering Product Manager, was on hand to receive the award at the awards ceremony on Thursday, September 23 during Sensors Converge in San Jose, CA.
The Temperature Scanning System is comprised of a wirelessly-powered temperature-scanning fob for each employee, an RFID reader, and a TV monitor. Employees receive a fob small enough to fit onto their keychain that is personalized to them. The fob quickly charges when held near an RFID reader at the entrance to the business using Powercast's patented power harvesting technology. In this touch-free system, employees scan their own forehead using the fob to read their temperature, and are permitted to enter or are denied entry based on the reading, which automatically appears on the monitor.
"We are honored receive this award, which recognizes our system for its value in helping businesses operate safely as COVID-19 continues to create challenges," said Charles Greene, Ph.D., Chief Operating Officer and Chief Technical Officer of Powercast. "Our system showcases the many benefits, future opportunities, and real-world practical applications of wireless power."
Powercast's technology touches millions of users across 15+ industries, including automotive, consumer electronics, IoT, entertainment, retail, RFID, and sensors. The company's collaborative approach and expertise in all aspects of product design, from vision through prototyping and commercialization, has resulted in dozens of applications and millions of units shipped.
"The goal of our program is to honor and promote wide recognition of the sensors industry's most transformative technologies and teams," noted Charlene Soucy, Senior Director, Sensors Converge. "Congratulations to Powercast for its innovation addressing the current COVID-19 business environment."
The judges for the Best of Sensors awards were Jack Gold, J. Gold Associates, LLC; Roger Grace, Roger Grace Associates; Matt Hamblen, Fierce Electronics; Catherine Liao, Blumio; and Brian Zahnstecher, PowerRox.
About Powercast
Powercast is the established leader in RF wireless power. Since its founding in 2003, Powercast has led the industry in RF wireless power innovations and applications that meet FCC and other global standards. Powercast's wireless power technologies eliminate or reduce the need for wires and batteries, working at distances up to 80 feet. With millions of units shipped, Powercast is led by a team with deep expertise in design, engineering, and prototyping, and with extensive commercial success in both industrial and consumer applications. With more than 100 customers and partner companies around the world, Powercast leads the RF wireless power market with 63 early and fundamental patents worldwide and 34 patents pending. For more information, visit http://www.powercastco.com.
About Sensors Converge
For 36 years Sensors Expo & Conference has brought together the design engineering community to network, share ideas, and define the future roadmap for the sensors industry. In 2021, we're excited to curate a live, in-person experience called Sensors Converge, where the industry can come together, safely, to collaborate and conduct business. Sensors Converge is part of the Fierce Technology Group, a division of Questex, which also produces the Best of Sensors Awards, Fierce Sensors, and daily content and newsletters on Fierce Electronics at http://www.fierceelectronics.com.