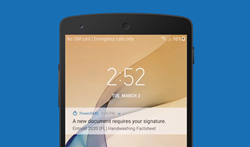 Real-time mobile push notifications provide policy updates and crucial information to employees at anytime, anywhere. This provides peace of mind and ensures employees have the tools needed to keep them safe and productive in any situation - no matter where they are working.
ORLANDO, Fla. (PRWEB) March 31, 2020
PowerDMS, a leader in cloud-based crucial information and policy management technology, today launched real-time mobile push notifications, a new capability that will support organizations in their response to the COVID-19 crisis.
The new feature enables organizations to alert employees in real-time via the PowerDMS mobile application about new policies or updates requiring signatures or acknowledgment. This makes communication more effective and efficient for organizations while ensuring the safety of employees with up-to-date information.
"Our mission is to simplify the process of sharing crucial information and ensuring this crucial information is acknowledged in an easy and efficient manner. We understand how critical this can be, especially in response to crisis situations like we are experiencing now with the COVID-19 pandemic," said David DiGiacomo, CEO of PowerDMS.
With a remote workforce, it can be challenging to make sure important information is received, understood, and acknowledged. As new information is released and policies change rapidly in response to COVID-19, organizations must be able to provide timely communications to their teams. Real-time mobile push notifications will ensure employees can be kept up to date and can take action immediately, from anywhere.
"At a time when so many are worried about their health and safety, the timely updating, disseminating, and referencing of policies and procedures is more important than ever. We have seen this first-hand as usage of PowerDMS has been up by more than 25 percent over the past several weeks. The addition of real-time mobile push notifications will provide peace of mind and ensure employees have the tools needed to keep them safe and productive - no matter where they are working," continued DiGiacomo.
Mobile push notifications are immediately available to all PowerDMS customers. To opt in or to learn more about this new feature, go to https://www.powerdms.com/.
About PowerDMS
Founded in 2001, PowerDMS offers a cloud-based policy, compliance, accreditation management solution that helps organizations reduce risk and liability, protect reputation, increase efficiency, and save lives. The company provides software tools to organize and manage an organization's critical documents and industry accreditation standards, and allows for training and testing of employees. PowerDMS serves customers in the private sector, public safety, government, and healthcare and has achieved significant organic growth in these markets. To learn more, go to http://www.powerdms.com.