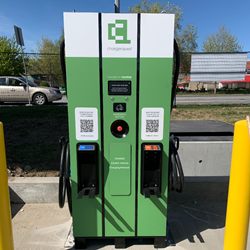 "Through our 'Powered by Noodoe' technology partnership program, ChargerQuest will soon become the largest charging service provider in Canada, spanning from British Columbia to New Brunswick. Together, we're defining what's possible across Canada."
HOUSTON (PRWEB) February 28, 2023
Canadian Charge Point Operator (CPO) ChargerQuest takes swift steps toward becoming the most established Charging Service Provider (CSP) across the nation. Made possible by its partnership with Noodoe, ChargerQuest will soon launch another DC fast EV charging hub consisting of six (6) "Powered by Noodoe" 120kW Exceed DC charging stations in Tobermory, Ontario. This expansion is one small part of its overall plan for dominance in the Canadian EV charging industry.
"ChargerQuest and Noodoe have aggressive plans for Canadian expansion in 2023," says Noodoe CEO Jennifer Chang. "Through our 'Powered by Noodoe' technology partnership program, ChargerQuest will soon become the largest charging service provider in Canada, spanning from British Columbia to New Brunswick. Together, we're defining what's possible across Canada."
Noodoe and ChargerQuest are the ideal partnership. ChargerQuest is uniquely positioned to become Canada's most comprehensive charging network. Noodoe, provider of the most advanced cloud-based technology, brings with it a raft of powerful software add-ons, a can-do attitude that makes any request reality, and impressive execution speed. ChargerQuest CEO Christopher Misch says, "We are thrilled to announce our newest L3 FAST EV charging hub in Tobermory, Ontario. Six (6) ultra-fast 120kW charging stations will be commissioned and ready for use by March 2023. In collaboration with Noodoe, ChargerQuest offers the most reliable, high-quality charging experience for our customers."
Additionally, ChargerQuest is targeting over 50 new AC charging sites; it is on track to hit a total of 300 charging assets nationwide. "EV adoption accelerates once consumers are confident they can quickly recharge and get on their way," says Chang. Powered by Noodoe EV OS, the complete ChargerQuest DC fast charging network enables charging so fast and accessible that long-distance electrified road trips become entirely feasible, even in a country as vast as Canada.
Noodoe EV OS is the most scalable and customizable EV charging solution, an integral part of the company's turnkey-oriented offer designed to meet the needs of fast-growing charging service providers around the world.
About ChargerQuest
ChargerQuest is Canada's electric vehicle charging network. CQ owns and operates the most innovative smart electric vehicle charging stations – located on our host partner properties. We support local Canadian businesses and EV drivers alike by creating EV charging hubs for businesses, municipalities, and high-traffic destinations. Through strategic partnerships and innovative revenue generating programs, ChargerQuest is uniquely positioned to establish Canada's most comprehensive EV charging network.
About Noodoe Inc.
Noodoe's vision is to put the best EV charging experience in every parking lot via Noodoe EV charging stations running Noodoe EV OS, today's most advanced operating system for running intelligent charging infrastructures. Flexible and dynamic, Noodoe develops next-generation solutions to meet any business' EV charging needs. By automating all operations of the EV charging network, including 24/7 charging service delivery, automatic billing, payment processing, and infrastructure diagnostics, Noodoe EV OS enables operators worldwide to achieve the lowest possible operating costs.