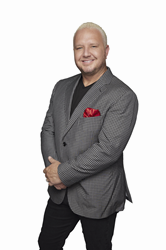 "Getting selected to speak on the TEDx stage is an incredible honor," said Jayson Waller. "It's an exciting time and I'm thrilled to get the opportunity to share 'my idea worth spreading' with the world."
BOCA RATON, Fla. (PRWEB) November 11, 2021
TEDxBocaRaton announced today that Jayson Waller will be a featured speaker at the TEDxBocaRaton event at the Mizner Park Amphitheater in Boca Raton, Florida on January 29, 2022, at 6 p.m.
Waller, 41, was raised in a trailer park and never finished traditional high school, yet he bootstrapped his way to becoming founder and CEO of POWERHOME SOLAR, a company on a path to becoming a billion-dollar business.
"Getting selected to speak on the TEDx stage is an incredible honor," Waller said. "It's an exciting time and I'm thrilled to get the opportunity to share 'my idea worth spreading' with the world."
Waller was a top salesperson at companies including AT&T and Verizon, but after being passed over for promotions, he began a home security company out of his bedroom. His path was one of passion mixed with unparalleled determination. He drove a limousine on weekends to support his young family and later became a partner in another security company.
Today, Waller has led POWERHOME SOLAR to employ more than 2,200 people and operate in 15 states. He was named an Ernst & Young Entrepreneur of the Year Southeast Award winner in 2019, and is currently featured on two TV shows that air on Bloomberg TV – the business pitch show "2 Minute Drill" and late-night entrepreneurial talk show "Office Hours." He also participated as a thought leader in a 2020 roundtable discussion on solar energy at the White House.
His book "Own Your Power" is set for release in early 2022, with the Kindle e-book version available now on Amazon. Waller's podcast True Underdog has reached a No. 3 ranking among Apple's entrepreneurial podcasts.
According to the Solar Energy Industries Association, a new solar project was installed every 75 seconds in 2020. Solar installers also will be the nation's fifth-fastest growing job opportunity in the next decade. And POWERHOME SOLAR's sales continue to skyrocket.
It's not just business success that Waller is creating – it's a world that is more energy efficient and kinder to the planet. He's also leading people on a mission of creating and following their own map, no matter what hand they are dealt. He welcomes everyone aboard.
Tickets available at TEDxBocaRaton.com.
About Jayson Waller
Jayson Waller, an Ernst & Young Entrepreneur of the Year 2019 Southeast Award winner, is a true champion of industry, having successfully launched and sold two home security companies. His current endeavor, POWERHOME SOLAR, launched in 2014 with just 15 employees, now employs more than 2,200, has expanded to 15 states and is tracking to becoming a billion-dollar business. He's done all of it without a college degree. In addition to his EY honor, Waller has received numerous other awards, most recently having been named a member of the Detroit 500 list of most powerful executives in southeast Michigan, and he's also has been named to the Charlotte Business Journal's 2020 list of Most Admired CEOs. Under his guidance, POWERHOME SOLAR has been ranked on the Inc. 5000 list of the fastest-growing private companies in America four times in the last five years. Waller is a judge on the Bloomberg TV business pitch show "Two Minute Drill," and he is also a routine guest on the late-night entrepreneurial talk show "Office Hours" which airs on the same network. His podcast True Underdog has reached acclaim as a Top 3-ranked podcast in Apple's entrepreneurial category.
About TEDx, x = independently organized event
In the spirit of ideas worth spreading, TEDx is a program of local, self-organized events that bring people together to share a TED-like experience. At a TEDx event, TED Talks video and live speakers combine to spark deep discussion and connection. These local, self-organized events are branded TEDx, where x = independently organized TED event. The TED Conference provides general guidance for the TEDx program, but individual TEDx events are self-organized. (Subject to certain rules and regulations.)
About TED
TED is a nonprofit organization devoted to Ideas Worth Spreading, often in the form of short talks delivered by leading thinkers and doers. Many of these talks are given at TED conferences, intimate TED Salons and thousands of independently organized TEDx events around the world. Videos of these talks are made available, free, on TED.com and other platforms. Audio versions of TED Talks are published to TED Talks Daily, available on all podcast platforms.
TED's open and free initiatives for spreading ideas include TED.com, where new TED Talk videos are posted daily; TEDx, which licenses thousands of individuals and groups to host local, self-organized TED-style events around the world; the TED Fellows program, which selects innovators from around the globe to amplify the impact of their remarkable projects and activities; The Audacious Project, which surfaces and funds critical ideas that have the potential to impact millions of lives; TED Translators, which crowdsources the subtitling of TED Talks so that big ideas can spread across languages and borders; and the educational initiative TED-Ed. TED also offers TED@Work, a program that reimagines TED Talks for workplace learning. TED also has a growing library of original podcasts, including The TED Interview with Chris Anderson, WorkLife with Adam Grant, Far Flung with Saleem Reshamwala and How to Be a Better Human.
Follow TED on Twitter, Facebook, Instagram and on LinkedIn.