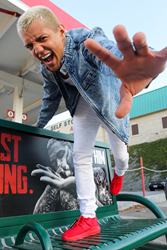 LOS ANGELES (PRWEB) October 30, 2019
TLK Fusion and Bebe Coronel are proud to announce his recent partnership with the iconic Members Only brand. Bebe will be working along side the brand as the ambassador and face of the brand for the balance of the Fall 2019 season. Bebe will be using his vast social presence to promote the brand as an ambassador taking the iconic brand's messaging to a new generation and audience. "I am so proud to be a part of a brand that deliver's amazing fashion." Bebe Coronel stated. "The Members Only brand has been delivering quality apparel and jackets for generations, and I look forward to introducing them to a new audience." Bebe will working with the brand on several activities including charitable events and a special concert performance for the holiday season. After meeting in New York City, owner Ron Malhotra stated, "This is an exciting new partnership and we very much look forward to working with Bebe."
The deal was brokered by leading Los Angeles-based leading Hollywood broker and marketing firm TLK Fusion. "After knowing Bebe for close to a decade, and the energy he brings to everything that he does, Members Only was the first brand we thought of when presenting options to Bebe.", stated TLK Fusion CEO and Founder, Ken Collis. "The brand is such a part of American pop culture, and with a new generation discovering them, it was exciting to bring the two parties together. They are a true iconic brand."
TLK Fusion specializes in bringing today's hottest celebrities and brands together to create a dynamic relationship that benefits both parties. With a decade of Hollywood relationships and putting together some of the largest celebrity endorsement deals together, TLK Fusion continues to lead the market in brokering successful relationships for brands. Along with Bebe Coronel, TLK Fusion has also worked with the Kardashian Family, the late Jenny Rivera, Ray J, and many more. TLK Fusion also specializes in raising brand awareness through securing retail distribution opportunities for it's roster of clients through the company's extensive network of celebrity endorsements, exclusive independent buyers and retail relationships. Along with the distribution services, they they strengthen the sales will full-scale digital and traditional marketing to foster consumer awareness.
ABOUT TLK FUSION, INC.
TLK Fusion (http://www.tlkfusion.com), is an innovative, fast-paced, pop culture, Hollywood celebrity endorsement broker and marketing firm based in Los Angeles, CA. Established in 2009 by successful entrepreneur, Ken Collis, TLK Fusion boasts not only an A List roster of celebrity talent, but also has an aggressive footprint in the Digital Marketing and Distribution into Retail markets. TLK Fusion's unique out-of-the-box thinking and 360 degree service mix has proven successful throughout the past decade. As the recipient of many accolades and awards that include multiple Best in Biz Awards, The Rolling Stone Magazine Impact Award, the notorious Golden Bridge Award, a coveted Stevie Award, and recently multiple Clutch Awards. TLK Fusion now has proudly accepted the 2019 Entrepreneur 360 Award for the second year in a row.
ABOUT BEBE CORONEL
Bebe Coronel is an energetic and dynamic performer that is skilled in multiple layers of entertainment from professional acting, modeling, and vocal performances. Initially coming into to fame through his social media presence with a combined platform following of 500K. Bebe is currently traveling the country with his El Corazon Mande Tour. With multiple singles released over the past year including Vestido, Morena, and Rompe Olas all receiving over 1 million views on YouTube, he is currently in the studio producing more music as well as in production working on new lifestyle videos for his YouTube channel.
ABOUT MEMBERS ONLY
Members Only (https://www.membersonly.com), is a full lifestyle brand with a dedicated fan base. Whether you knew us from the '80s and love us now for our slimmer modern look with all the signature details, or are rocking our jackets because it's just simply…iconic. We see race, creed, and taste not as separation but as inspiration. Dear upright citizen of the world, thank you for including us in your world. We are proud to have you as a Member.