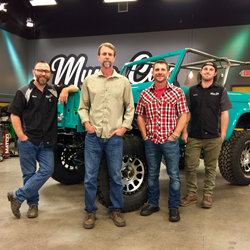 Warriors Heart Foundation subsidizes treatment costs for our veterans, first responders and protectors. Every dollar goes towards a human being. You can get involved by donating to this non-profit, sharing this story and/or bidding in the auction. - Tom Spooner, Warriors Heart Co-Founder
SAN ANTONIO (PRWEB) November 05, 2021
To help our military, veterans and first responders rebuild their lives, PowerNation's Music City Trucks show restored a 1974 Beach Cruiser Bronco that will be auctioned on December 3, 2021, to benefit the Warriors Heart Foundation. This classic car is on display this week at SEMA (Specialty Equipment Market Association) at the Las Vegas Convention Center. With Sea Foam as a sponsor, this Ford Bronco restoration will be auctioned both online and offline during the Mecum Auctions on December 3, 2021, at the Kansas City Convention Center.
During a recent Music City Trucks episode (Season 1, Episode 16) that airs on NBC Sports Network nationally and online, featured guests included Former Delta Operator and Warriors Heart Co-Founder Tom Spooner and Professional Angler and Tactical Trainer Jamey Caldwell (1 Minute Out). Spooner and Caldwell served together on many deployments in Afghanistan and Iraq, and provided the big picture impact of how the funds raised will help heal our frontline protectors struggling with addiction, PTSD and co-occurring issues.
With 2,000+ warriors going through the Warriors Heart residential treatment program (separate from the Warriors Heart Foundation) since it opened five years ago in 2016, Spooner explained, "In our post retirement afterlife, I'm very involved and one of the founders of Warriors Heart, which is the inspiration for this whole build."
When asked to explain the foundation, Spooner expanded, "Warriors Heart Foundation, the meat and potatoes of it, is that it subsidizes treatment costs for our veterans, first responders and protectors. Through the foundation, every dollar goes towards a human being. You can get involved by helping other human beings, and that's how the viewers can get involved through the auction."
Jamey Caldwell (1 Minute Out), added, "When this Bronco is sitting on the auction block, whoever wins it and gets it, it will be an unbelievable vehicle to have, but the background behind it, and what really gets me is I've visited Warriors Heart and taken guys fishing there. And to see what happens down there, and to know that all the proceeds from this whole project will go to help numerous guys and get them back on their feet, some of them off the streets, it's amazing. You can't even believe what you guys are doing, and everybody is doing. You can't put a price on it. It is literally going to saves lives."
Host Brandon Burke then emphasized, "Marc (Christ) and I are so proud to be building this truck and have been putting in long hours because we want this truck to represent Warriors Heart." The restoration team took a modern approach to a classic rig. The upgrades include "a new chassis from Throttle Down Kustoms, supercharged Edelbrock Coyote crate engine, transfer case, axles, James Duff suspension, fuel system, sheet metal from Dennis Carpenter, and overhaul the interior with custom parts from TMI."
Following this opening segment about Warriors Heart Foundation, viewers can watch a behind-the-scenes look at how this 1974 Ford Bronco was rebuilt. Jason Abney and Cole McCrary from Sonax USA do the smooth buffing to bring out the paint's shine. And then Mark Campbell (Edelbrock Group) installs a brand new supercharge Coyote crate engine with high-end pistons with the Co-Hosts.
Anyone can bid online and offline through the Mecum Auctions on December 3, 2021.
WHERE TO BID
Mecum Auctions – December 3, 2021
https://www.mecum.com/auctions
WHERE TO WATCH – PowerNation's Music City Trucks
POWERNATION airs on NBC Sports Network Nationally and on 80 regional affiliate stations. Episodes of Carcass, Detroit Muscle, Music City Trucks and Engine Power are also available online on YouTube, Samsung TV Plus, The Roku Channel, Amazon Video, Vizio WatchFree+, Xumo or at https://www.powernationtv.com.
WHERE TO WATCH WARRIORS HEART FOUNDATION EPISODE
PowerNation - Music City Trucks – Season 1, Episode 16
https://www.powernationtv.com/episode/MCT2021-16/adding-coyote-power-to-a-rebuilt-bronco
YouTube: https://www.youtube.com/watch?v=Psx0N3Qydok
ABOUT MUSIC CITY TRUCKS
Hosts Marc Christ and Brandon Burke mix Nashville's flavor and excitement in this PowerNation how-to automotive show with cool truck builds including classic and late model pickups, sport trucks, and SUVs.
https://www.powernationtv.com/shows/music-city-trucks
ABOUT SEAM FOAM
Sea Foam Sales Company was born with a focus on safe and effective products that help engines and equipment run cleaner and last longer. Sea Foam Motor Treatment is now one of the best-selling automotive additives in North America. Sea Foam products have attracted a passionate following as the proven choice for mechanics, vehicle enthusiasts, and all sorts of people who love or depend on engines. https://seafoamworks.com
ABOUT WARRIORS HEART FOUNDATION (Bandera, Texas) Warriors Heart Foundation is a 501 (c)(3) that accepts donations to help heal our protectors with their peers. One of the missions of the foundation is to provide financial aid through hardship grants that assist in covering the cost of treatment at Warriors Heart to help our military, veterans and first responders get the treatment they have earned and deserve. https://www.warriorsheartfoundation.org
ABOUT WARRIORS HEART (Bandera, Texas near San Antonio): Warriors Heart is the first and only private accredited treatment program in the U.S. exclusively for "warriors" (active duty military, veterans, first responders and EMTs/paramedics) faced with the self-medicating struggles of alcohol addiction, prescription and drug addiction, PTSD (post-traumatic stress disorder), mild TBI (Traumatic Brain Injury) and other co-occurring issues in a private, 60-bed facility on a 543-acre ranch. Along with a minimum 42-day peer-to-peer residential treatment program, Warriors Heart gives "warriors" the option of Detox, Day Treatment, Outpatient, and Sober Living (60-day minimum) and Aftercare. Warriors Heart's work has been featured on the TODAY Show, CBS Health Watch, FOX 11 Los Angeles, National Defense Radio Show and in TIME, Forbes, The Chicago Tribune, Addiction Pro magazine, San Antonio Business Journal and many more. There is a 24-hour Warriors Heart hotline (844-448-2567) answered by warriors. https://www.warriorsheart.com
MEDIA CONTACTS:
Liz Kelly (Warriors Heart): 310-987-7207
Brian Miller (Sea Foam)
John Kurtz (Music City Trucks)