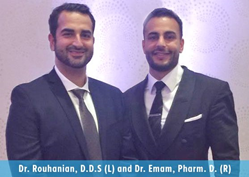 "As a medical professional, it was imperative that I sourced authentic face masks not only for my practice but for my loved ones and really anyone who needed it" - Dr. M. Rouhanian D.D.S, owner of Quince Orchard Dental Care and PPE Wholesalers
FREDERICK, Md. (PRWEB) August 11, 2020
2020 has seen a drastic change in how things are done on a daily basis due to the Covid-19 pandemic. Back in April, the CDC recommended that everyone wears a face mask in public. Now, most states have made it compulsory as the need for authentic and durable face masks is greater than before.
Earlier this year, all medical professionals in the U.S.A realized the shortage of PPE was inevitable. Dr. Rouhanian was no different as he tried sourcing more masks and other PPE but companies had already placed a limit on each order as everyone else was trying to stock up. His practice, Quince Orchard Dental Care, which is located in Maryland, had purchased less than they were using, so stock running out was bound to happen.
"I have seen first-hand companies that are trying to profit off of everyone's fear of the Coronavirus. As a medical professional, it was imperative that I sourced authentic face masks not only for my practice but for my loved ones and anyone who needed it" - Dr. M. Rouhanian D.D.S, owner of Quince Orchard Dental Care and PPE Wholesalers
Conversations about what could be done about the dilemma started happening between Dr. Rouhanian and his cousin Mo Emam. Mo has been a pharmacist for 10 plus years and has been running his pharmacy and a distribution company that moves prescription medicine across the U.S and overseas. They capitalized on Mo's experience in working with distribution companies and were able to get directly in touch with a manufacturer of the authentic Powecom KN95 masks. This direct relationship eliminated the middleman which allowed them to be able to offer the masks at an affordable price. To ensure the masks' authenticity, they ran their independent tests which proved to be very effective.
Dr. Rouhanian noted that some people have started wearing homemade masks, which is better than nothing at all but as a medical professional he knows they are not very reliable. This made him realize that it was important to not only supply other medical practices but businesses in other industries and individual consumers. Sadly, some people have also tried sourcing other masks only to end up with fake ones that are often repackaged, which is one of the biggest issues currently.
While riding the wave of people's apprehension of the virus, companies have popped up all across the U.S.A to try to make a quick buck. This makes it difficult for the average person to decipher if the products they are paying for, really are authentic. PPE Wholesalers is a company with a difference and is bent on ensuring that each mask is authentic and up to U.S standards. Whether one package is bought as a consumer or thousands of masks are bought for your business operations, it does not matter as PPE Wholesalers just wants everyone to benefit from their quality product.
With the shortage of other types of approved masks and the market being filled with fake masks, Dr. Rouhanian and Mo are two medical professionals who have 100% trust in the Powecom KN95 masks. Both use the masks at their facilities and in their personal lives. Their main goal is to provide the masks at an affordable price to help keep everyone safe through this pandemic. These masks come with great benefits:
CDC and FDA recommended
N95 equivalent standards
Authentic
PPE Wholesalers has thousands of masks in stock in the U.S.A. that can be shipped to customers within the next business day. They understand the importance of their customer's health so methods are in place to have it shipped quickly and free of cost. Their masks are authentic, affordable, and come with the seal of approval from their principals and their friends and family. These masks are not being dropped shipped from Asia but rather they are coming into the U.S where they are quality assured independently and by the F.D.A. They have supplied hundreds of thousands of masks across the United States including Governments, cities, and other national distributors. For more details visit their website at http://www.ppe-wholesalers.com.