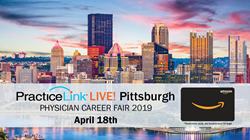 Physicians and advanced practice providers can pre-register for the event to receive a $25 Amazon.com eGift Card at the door.
PITTSBURGH (PRWEB) April 15, 2019
According to ACGME, the state of Pennsylvania has the fourth-largest number of residents with more than 7,081 residents and 1,720 fellows for the 2018-2019 academic year. The 313 specialty programs and 403 subspecialty programs rank Pennsylvania third-largest in the nation. Pittsburgh area institutions, such as Penn Highlands Healthcare, Inc., UPMC Hamot and Mount Nittany Medical Center will exhibit at the career fair alongside other regional and national organizations.
Both the career fair and seminar are open to residents and fellows as well as practicing physicians, nurse practitioners, and physician assistants. The casual, family-friendly environment provides a chance for physicians and advanced practitioners to connect with recruiters and find the best fit for their first, or next practice. Premium food and drinks, along with parking, are available at no charge. Pre-register for the event to receive a $25 Amazon.com eGift Card at the door.
Nine hiring organizations with local job opportunities as well as organizations specifically seeking physicians for regional and nationwide opportunities will take part in the event. Featured organizations include Guthrie Healthcare, Davis Health System and Charleston Area Medical Center, Inc. Visit our website for a complete list of participating organizations.
PracticeLink Live! Pittsburgh takes place at The Pittsburgh Marriott City Center on Thursday, April 18, 2019. The career fair begins at 5:00 p.m. and continues until 8:00 p.m. The optional job-search seminar begins at 6:30 p.m.
Visit our website for more information or to register for this free event. For specific questions, contact Sarah Griffin at Sarah.Griffin@PracticeLink.com or call 800-776-8383.
About PracticeLink: PracticeLink.com is the most widely used online physician job bank. More than 20,000 physicians and advanced practitioners register with PracticeLink.com each year in their search for a new job with thousands more searching the Job Bank confidentially when looking for a new practice. Over 1,000 recruiters, representing more than 5,000 health care facilities nationwide, use PracticeLink to recruit physicians and other health care providers.
About PracticeLink Magazine: PracticeLink Magazine is a free, award-winning, career advancement publication that reaches over 80,000 residents, fellows and job-seeking physicians. PracticeLink Magazine is owned and operated by PracticeLink.
PracticeLink is headquartered in Hinton, W.Va., with a second office in St. Louis, MO.