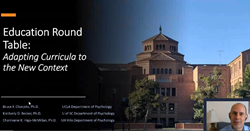 "The disruptions caused by COVID-19 are leading to an unprecedented mental health crisis. Unlike the current pandemic though, we have the tools available now to proactively support those that are on the frontlines of this upcoming mental health crisis."
INDIATLANTIC, Fla. (PRWEB) May 29, 2020
PracticeWise, a behavioral health company that partners with organizations and agencies to help kids improve their mental health, has made a collection of free resources available to support frontline mental health providers, educators, and families helping children and adolescents overcome the challenges caused by the COVID-19 pandemic.
As schools, colleges, and mental health agencies shifted to online environments in response to the crisis, PracticeWise intensified their efforts to disseminate decades of evidence-based mental health research and resources to frontline workers, educators, and families. These free resources include on-demand courses and videos, webinars, and roundtable discussions.
"We have what we like to think of as a 'national stockpile' of evidence-based ideas and resources focused on children's behavioral health distilled from over 50 years of worldwide research," explained PracticeWise President/co-founder and UCLA Professor, Bruce Chorpita, Ph.D. "We have been building and preparing for this moment for more than 20 years as collaborators and for more than 15 years as a company."
The stockpile of resources includes a distance learning library, which contains free courses covering tools that assist with evidence-informed clinical decision making; concepts or applications from evidence-based treatments and common practices; and supervision and training topics. These courses help both providers and educators better implement evidence-based resources in their teaching and practice.
PracticeWise recently held an invitation-only online roundtable discussion with educators to share ideas and learn about the most pressing challenges, needs, and opportunities they face. The event included attendees from 16 states, Canada and Puerto Rico from institutions like Palo Alto University, University of Southern California, University of California, Berkeley, American University, University of Delaware, University of Illinois, University of Nebraska, University of North Carolina, and Brigham Young University among others. The outcomes of this event helped PracticeWise focus on how best to serve and support educators in social work, psychology, and other areas of mental health as the field transitions from classroom-based to online or partial-online curricula.
"During these stressful and often dark pandemic days, PracticeWise is shedding light and hope by offering free access to their curricula to behavioral health professionals," said Robert D. Friedberg, Ph.D., ABPP, Head, Child, and Family Emphasis Area, Professor, Palo Alto University. "Their portable, state of the science guides and skills are accessible, powerful, and widely applicable to diverse populations and settings. Providing free access to these robust resources reflects the company's and its leaders' generous and heroic spirit."
Also, PracticeWise Trainers and Consultants have hosted free webinars to provide support to providers, educators, and caregivers. Topics have focused on evidence-based tools and resources, as well as a specific session zeroing in on how to help children adjust to learning at home and helping them thrive during the pandemic.
Dr. Chorpita was also recently invited to share his expertise and insights with the Division of Student Health and Human Services at the Los Angeles Unified School District (LAUSD), which is the 2nd largest public school district in the United States.
"Our team of psychiatric social workers, pupil services, school nurses, healthy start navigators, coordinators, teachers, pediatricians, child psychiatrists and various other school support personnel are so appreciative of Dr. Chorpita for joining us during our 'Connecting with Colleagues' Series online. Dr. Chorpita's message about family engagement and best practices was inspiring during this COVID Pandemic," explained Pia V. Escudero, LCSW, Executive Director, Division of Student Health and Human Services, LAUSD. "We are eager to learn more about his work and will be utilizing the resources [he discussed] as we are always eager to learn how to improve our services to better impact the quality of health and mental health care for our students. We extend our gratitude to Dr. Chorpita and the entire PracticeWise team."
Bryan J. Stewart, PracticeWise CEO, stated, "The disruptions caused by COVID-19 are leading to an unprecedented mental health crisis, which has the potential to last far beyond any COVID-19 vaccine produced. Unlike the current pandemic though, which caught the world unprepared, we have the tools available now to proactively support those that are on the frontlines of this upcoming mental health crisis. We have a window of opportunity to prevent what could be a generation of pain with some of the best tools already in hand. Our stockpile of resources, custom analytics, and tools are built on decades of research, collaboration and development can help existing and emerging companies and organizations focused on mental health be more effective and efficient. I believe we are uniquely positioned to help others become "Powered by PracticeWise" in order to create enduring, thriving, socially constructive, and commercially successful enterprises. Our team stands ready to serve to help others do what they do better."
About PracticeWise
Founded in 2004, PracticeWise helps those who are in the business of helping others lead better lives. We prioritize and deliver the best available evidence to enable behavioral health providers and the systems they work in to be as efficient and effective as possible by helping them to know what to use when based on knowledge and context. PracticeWise provides training, tools, and resources that help individuals working with children and families to help kids get better faster. Find more information about how PracticeWise is serving and shaping the future of behavioral health at http://www.practicewise.com.