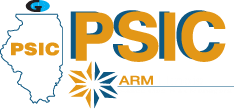 RIVERDALE, Ill. (PRWEB) November 04, 2020
Badgley was recognized for his sales success and service commitment to PSIC.
PSIC is a full-service insurance and risk management program offered to public schools in Illinois. The comprehensive program gives members long-term stability as well as broader coverages and increased limits. In addition to workers compensation, coverages include property & casualty, automobile, excess liability, school board legal, student accident, cyber liability, pollution and more. The program is administered by Arthur J Gallagher, the leading provider of risk management and insurance solutions for Illinois public school districts.
ARM of Illinois is the exclusive marketing agent of PSIC. A member of ARM International, the group provides a proven distribution platform for insurers, wholesalers, and program managers. ARM of Illinois has 24 independent agency members operating from locations throughout Illinois.
M&M Insurance Agency is located at 539 S. Washington, Du Quoin, IL 62832. Email mminsurance@mminsurance.org or call 618-542-4831 for more information.