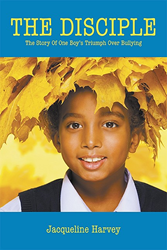 "An inspirational book that is an important read for both children and parents. It offers a fresh and unique perspective on a very timely subject matter and one that needs to be discussed by families. Highly recommend." – M. Dixon, 5-Star Amazon review
LONG ISLAND CITY, N.Y. (PRWEB) November 05, 2018
"An inspirational book that is an important read for both children and parents. It offers a fresh and unique perspective on a very timely subject matter and one that needs to be discussed by families. Highly recommend." – M. Dixon, 5-Star Amazon review
How would God deal with bullying? It takes a divinely inspired dream for young Devin to fully understand the problem facing him and to confront the boy bullying him in school.
"Devin Tyler was the shortest boy in all the fourth grade classes at The Perry Prep School. He was also among the skinniest, and without fail, there was always someone to remind him of his little stature." So begins "The Disciple," an insightful children's book on bullying by Jacqueline Harvey.
Following Devin's God-given dream, this uniquely told story envisions bullying through the eyes of God, who reveals to Devin the inner motivations of a bully and how the boy should respond to his tormentor.
About the Author: Jacqueline Harvey is a professional writer residing in Queens, New York, who is devoted to bringing the glory to God to her life and work.
"We are pleased to present this truly inspired children's book on bullying. The Disciple is in a class all by itself," said Robert Fletcher, CEO of Strategic Book Publishing and Rights Agency.
THE DISCIPLE: THE STORY OF ONE BOY'S TRIUMPH OVER BULLYING (ISBN: 978-1-60976-992-5) is now available for $7.95 and can be ordered through the publisher's website:
http://www.sbpra.com/JacquelineHarvey or at Amazon.com or Barnesandnoble.com.
WHOLESALERS: This book is distributed by Ingram Books and other wholesale distributors. Contact your representative with the ISBN for purchase. Wholesale purchase for retailers, universities, libraries, and other organizations is also available through the publisher; please email bookorder@sbpra.net.