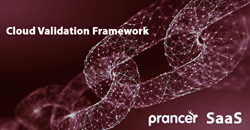 Compliance tests (including HIPPA, CIS, PCI, …) are pre-integrated into the SaaS solution to make it easier for companies to adopt the solution.
SAN DIEGO (PRWEB) April 08, 2020
Prancer, a company that provides clients with a framework to validate resources that they deploy to the cloud, is excited to announce the new Software as a Service (SaaS) solution for customers. This new SaaS solution significantly enhances the adoption of the prancer cloud validation framework and allows customers to scale out their cloud presence while remaining compliant and without compromising security.
Building on the basic features of the prancer cloud validation framework, a long list of new SaaS features have been added to the product. Compliance tests (including HIPPA, CIS, PCI, …) are pre-integrated into the SaaS solution to make it easier for companies to adopt the solution. These new features are designed for enterprise businesses who want to take full advantage of cloud technology while also maximizing resource compliance and improving security.
Whether you rely on Azure, AWS, Google Cloud or hybrid solutions for your computing needs, prancer's features and management systems are compatible with all these platforms. You can easily integrate prancer cloud validation framework into your existing pipeline and provide added support to DevOps and IT teams. Prancer cloud validation framework latest features provide a pre and post deployment validation framework so that you can thoroughly test new applications before releasing them to the cloud and continue to monitor after deployment.
For each cloud platform, prancer also offers a free tier that allows businesses to run a proof-of-concept and get a more detailed look at how our features will impact their business. You can run a wide variety of compliance tests before purchasing the product and integrating prancer into your business.
Perhaps one of the most notable additions to our SaaS services is the crawler feature. The crawler allows you to connect to different cloud providers and git file systems in order to quickly crawl extensive amounts of data for resource monitoring. You can enjoy instant compliance tests to the resources you want to monitor and it speeds up productivity and move new applications through the development pipeline. With advanced security measures, you can also rest assured that all of your sensitive data is being safely stored and used without creating additional vulnerabilities.
Prancer is committed to meet the growing needs of the customers. As a prancer cloud validation framework client, you can expect to continue to receive new updates and features as we expand our platform and keep pace with both technology and the modern business world.
About Prancer
Prancer Enterprise (http://www.prancer.io) was created with the goal of providing any size business with a cloud validation framework that enables cloud governance and multi-cloud validation compliance. By understanding the needs of today's clients, creating innovative solutions and collaborating through open source networks, we are working to make cloud technology more secure and versatile.
To learn more about Prancer and how we can help your company, contact us today.