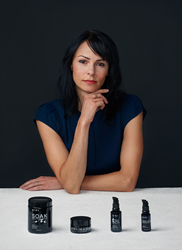 I've always held the belief that 'paying it forward', as they say, can absolutely make the world a better place.
NEW YORK (PRWEB) November 18, 2019
Prāz Naturals, a skincare company that focuses on fresh all-natural ingredients and clean, easy-to-use products, today announced that 1% of their 2019 sales will be donated to the non-profit organization No Kid Hungry, the national anti-hunger campaign. It is an end-of-year gift that benefits the future, sets the standard for business-backed altruism, and embodies the spirit of a skincare company that believes giving back solidifies an emotional connection between customers and enterprise.
According to the No Kid Hungry campaign, more than 11 million children in the United States live in households which don't have enough food for every family member to lead a healthy life. This translates into 1 in 7 children living in hunger in America. A balanced diet with healthy food choices prevents both physical and mental health problems in children including increased risk of heart disease, cancer, blindness, to name a few as well as depression, anxiety, and ADHD. Food nourishes the body from the inside out and it is this same healthsome philosophy that makes Prāz Naturals, a company that only sources clean and cruelty-free ingredients, a natural benefactor for an organization promoting consistent access to sound food choices for children.
Prāz Naturals' core value of putting the customer and their health at the forefront has long spurred the company to continually seek out clean, sustainable ingredients with which to create their products.
Sasha Nialla, Founder & CEO, has spent​ 9 years in the skincare business and the past 11​ ​years devoted to philanthropy. In both her previous photography career and her personal life, she has donated her time and efforts to play an instrumental role in helping organizations build both their awareness and marketing strategies in order to reach their respective goals. Some charitable and non-profit organizations she has devoted her energy towards uplifting are: Bideawee (which finds homes for rescued animals), All Stars Project (which provide after-school performance programs for youth in underserved communities,) as well as Young Life, Smile Center, and the 3% Movement.
Striving for good makes the decision to donate sales from Prāz Naturals a natural offshoot in partnering with No Kid Hungry. Nialla sees an organic connection between nourishing children and continually cultivating clean methodologies in producing Praz Natural's timeless products and their benefit to consumers looking for healthy skincare. Their effort to create a line of uncompromised beauty products dovetails with protecting the future - which includes the youth of today.
"I've always held the belief that 'paying it forward', as they say, can absolutely make the world a better place," says Nialla, "For me, helping others and doing good, is an everyday philosophy so naturally I try to bring that into my career and business. Prāz started on a foundation of praising humans, animals and the planet - all together in a symbiotic way. So 'paying it forward' is what we stand for. Utilizing our company to give back in a really big way makes a really big impact and hopefully, can bring more attention to the simple act of good."
Established in 1984, No Kid Hungry aims to end child hunger in America by connecting kids to effective nutrition programs such as school breakfast and afterschool meals as well as summer meals and food skills education. The No Kid Hungry network is made up of private citizens, government officials, business leaders, and more who provide hunger solutions in their communities which serves to break down the barriers that keep kids from healthy food, shed light on the crisis of child hunger and advocate policy changes.
"We chose No Kid Hungry as our first non-profit to partner with because health and nutrition are number one in sustainability," explains Nialla, "These are basic needs that all people, especially children, should have on the daily without struggle. If our company donation can really have an impact starting somewhere then feeding children is a no-brainer. It's a necessity."
Prāz Naturals will continue to support organizations who focus on humanitarianism and the same core values of helping others, protecting the planet, and making a difference which imbues all their products.
For more information about Praz Naturals, please visit https://www.PrazNaturals.com or contact ​hello@praznaturals.com.
About Prāz Naturals
Prāz Naturals offers a skincare routine worth celebrating and only gets better as they continue to explore and discover powerful plant-based ingredients. With a foundation built on appreciation, wellness and a commitment to the environment – Prāz ensures responsible business practices and manufactures every product by hand. The ultimate goal is to source and share their products in a way that honors humans, animals, and the planet.
About No Kid Hungry
​No child should go hungry in America. But 1 in 6 kids will face hunger this year. No Kid Hungry is ending childhood hunger through effective programs that provide kids with the food they need. This is a problem we know how to solve. No Kid Hungry is a campaign of Share Our Strength, an organization working to end hunger and poverty. Join us at​ NoKidHungry.org