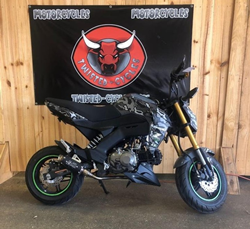 DALLAS (PRWEB) January 29, 2021
While the Harley-Davidson brand is one of the most popular motorcycles in the Twisted Cycles inventory, the dealership buys and sells many other brands. One such option is Kawasaki, which is a company known for its Ninja® models and other sport options. Currently, the dealership has three available Kawasaki motorcycles in its inventory.
The most recent Kawasaki model available at Twisted Cycles is a 2020 Kawasaki Z125 Pro. The motorcycle has a black and gray camouflage exterior and offers a fuel-injected 125cc engine. Known as a street vehicle, the model has been driven for just 618 miles. It has been at the dealership since mid-November.
Another Kawasaki model available at twisted Cycles is a white 2014 Kawasaki ZX636-E. As a part of the Ninja® lineup, the model offers up to 129 horsepower with its V-2 four-stroke engine. The motorcycle has been at the Corinth location since late October and has 12,802 miles driven.
The oldest pre-owned Kawasaki motorcycle at the dealership is a black 2009 Kawasaki ZX1400-C. Also a part of the Ninja® model lineup, the vehicle has been at Twisted Cycles since mid-October. Armed with an inline-four and four-stroke engine, it has a maximum 113.6 ft-lbs of torque. It has been driven for 31,870 miles.
If you have interest in any of the above-mentioned models, Twisted Cycles invites you to contact them for more information. Each Kawasaki model is currently located at their Dallas location at 7700 S Interstate 35 E in Corinth. However, the dealership can also be contacted through their website at https://www.twisted-cycles.com/ or over the phone at (214) 937-5959.