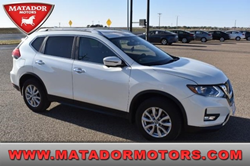 WOLFFORTH, Tex. (PRWEB) December 17, 2020
When searching for a used or pre-owned vehicle, many car buyers opt for vehicles with low mileage. While this is a common strategy, vehicles with this trait can sometimes be difficult to find. At Matador Motors, those looking for a vehicle with low mileage can currently find three models under 75,000 miles at the dealership near Wolfforth, TX.
The vehicle with the lowest mileage at the dealership is a white 2017 Nissan Rogue SV. Armed with all-wheel drive, the model was recently added to the dealership's inventory. It offers an estimated 25 city miles per gallon (mpg) and 32 highway mpg. The crossover has just 28,197 miles driven on it.
The second vehicle with a mileage of under 75,000 is a gray 2009 Hyundai Accent GS. As a three-door subcompact sedan, the model has been driven for just 56,713 miles. Offering an estimated 35 highway mpg, the model has a black interior with climate control and a Bluetooth® phone system.
Lastly, a black 2015 Chrysler 200 Limited is also an available model with less than 75,000 miles. As a four-door sedan, the front-wheel drive model offers up to a 36-highway mpg rating. It has a nine-speed automatic transmission and has a total of 72,723 miles driven.
Customers interested in purchasing one of the three models mentioned above are invited to contact Matador Motors. Information on each model can be found on the Matador Motors website at https://www.matadormotors.com/. Customers can also either schedule a test drive online or call an associate directly at (806) 833-7300 to plan a time that works best. The dealership can be found at 214 E Highway 62/82 in Wolfforth, TX.