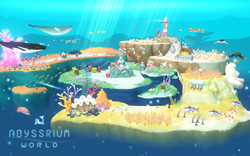 ▶Beautiful chill out experience in the ocean! NO.1 relaxing game 'ABYSSRIUM WORLD' ▶ 'ABYSSRIUM WORLD' is now open for global pre-registration on the AppStore and Google Play.
SEOUL, South Korea (PRWEB) July 03, 2020
Flero Games (Ho-Dae Lee, the CEO) announced that the company has started pre-registration for ABYSSRIUM WORLD, one of the most anticipated new mobile relaxing game this season, on June 26, 2020.
Pre-registration for ABYSSRIUM WORLD is available on Appstore and Google play, those who pre-register will get limited in-game rewards. The game will globally launch in Q3 2020 after proper test.
'ABYSSRIUM WORLD' is the newest series of 'Abyssrium', which hit 50 million downloads globally. The game features panoramic view of the ocean, away from the deep sea around the coral reef. Through activities such as production, exploration, and cleanliness management, players can collect colorful ornaments and various ocean sea creatures. They can build and decorate their own undersea world to suit their own taste.
Contrary to its previous series, ABYSSRIUM WORLD adopted a widescreen to express the vast ocean, and and creates the impression of space. Featuring state-of-the-art graphics, ABYSSRIUM WORLD enhanced the visual quality by upgrading the details of each object and improving the appearance of fish. Also, the game allows players to communicate with their friends by visiting their place or sharing their own space with others.
"ABYSSRIUM WORLD maintains the soft pastel color palette and melodic music of the original, and at the same time, we tried to enhance the level of graphic and system." said Yong-jun Kim, General Manager of Flero Games. "We hope players love and enjoy the extremely emotional and relaxing game - ABYSSRIUM WORLD."
More details on the game and information on pre-registration for the game can be found on the official websites.