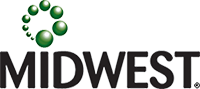 CANTON, Ohio (PRWEB) September 11, 2018
The Precast/Prestressed Concrete Institute (PCI), the industry leader and authority on design, fabrication, and erection of precast concrete structures and systems, has named Midwest a Premier Partner.
Founded in 1954, PCI is the nation's preeminent technical institute for the precast concrete structures industry. Over the years, PCI has developed an influential set of resources and best practices regarding the specification, design, fabrication, erection and use of concrete structures, many of which have come to define today's prevailing industry standards.
PCI's recognition of Midwest as a Premier Partner represents a strong recommendation of the company's products and managed services to all associated sectors of the industry — from raw product suppliers to precast concrete erectors and manufacturers. Dust control is a major challenge for many of these businesses, and it's become an urgent priority in the industry after recent OSHA guidelines regarding respirable silica dust. As Midwest is an established provider of dust control products and services to the industry, PCI's latest recommendation should represent a welcome solution.
Maintaining OSHA Crystalline Silica Rule Compliance
Precast concrete describes the end product when concrete is cast into a mold, transported, and then put in place. While precast concrete is regarded as a durable, cost-effective, and versatile construction material, the substances in concrete pose some risks to workers in the form of exposure to silica dust.
In supplier facilities, yards where these structures are fabricated, as well as near construction sites where the products are erected, the material often contains microscopic, yet potentially harmful substances such as crystalline silica. When workers drill, cut, or grind objects that contain crystalline silica, they release respirable-sized particles into the atmosphere in the form of silica dust. Road and yard dust is a significant contributor to silica exposure, as well.
These silica particles can have a potentially negative impact on worker health and lead to air and water pollution. In light of both these facts and the recent news that OSHA has changed its limits on respirable silica in the workplace, dust control has become crucial for companies hoping to avoid stiff regulatory fines and negative environmental impacts.
As the prestressed/precast concrete industry leader, PCI recommends that organizations manage all aspects of construction, including dust control, in order to reduce harmful exposure to respirable crystalline silica. By recognizing the efficacy of Midwest's silica dust control programs and the company's overall achievements in the dust control space, PCI will provide member organizations with a valuable resource for OSHA Crystalline Silica Rule compliance, increased worker safety, and better worksite efficiency.
ABOUT MIDWEST
Midwest creates environmentally responsible solutions for roads, rails and runways to improve customer productivity, compliance and community quality of life. The company has been recognized by the Inc. 5000 eight separate times for its remarkable growth and success.