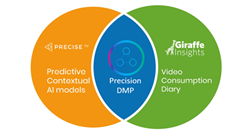 As the viewing behaviours of kids and families change, and channels adapt to capture a broader audience, it has never been more important for brands to apply a data-driven granular targeting approach in order to reach those users most likely to engage. Nadav Shmuel, CEO, Precise TV
LONDON (PRWEB) July 30, 2020
Data from Giraffe Insights' ongoing study into video consumption of 2-12 year olds, 'Kids And The Screen: Changing The Channel', has been combined with Precise TV's existing COPPA compliant tech platform, to provide a powerful KidSafe AI solution that enables predictive contextual targeting.
Precise TV Co-founder and CEO Nadav Shmuel said "With so many people spending more time at home and turning to online video to learn, cope and connect, YouTube usage is spiking around the world. As the viewing behaviours of kids and families change, and channels adapt to capture a broader audience, it has never been more important for brands to apply a data-driven granular targeting approach in order to reach those users most likely to engage."
Giraffe Insights Managing Director Maxine Fox said: "Kids and the Screen is a revolutionary study launched three years ago to answer industry wide questions surrounding kids viewing. This research provides one consolidated data source where all video consumption, captured in-the-moment and cross-platform is recorded for kids as young as 2 years old. There is no one size fits all approach and brands need to effectively target younger audiences through strategies underpinned by data to ensure they maintain relevance and engagement."
Giraffe Insights' sister agency Generation Media, the leading independent specialist for communications to children, young people and families, now include the DMP in its stock of proprietary tools for clients, to enhance and optimise the planning and buying process.
Lisa Morgan, Managing Director at Generation Media adds "Successfully navigating our clients through the evolving children's media market has always been a key objective. The Kids and the Screen data has underpinned our YouTube strategies since inception and the launch of the DMP will allow us to further enhance our contextual targeting to maximise the effectiveness and return of our clients' budgets."
About Precise TV
Founded in 2015, Precise TV is a global social video advertising platform that enhances brand and performance results for advertisers through contextual targeting at scale, reduction in wastage and improved consumer experience through greater ad relevance. With offices in London, Sydney and New York, Precise TV is accredited by KidSafe as FTC COPPA compliant, a member of the IAB Gold Standard and JICWEBS certified Brand Safe.
About Giraffe Insights
Giraffe Insights are leading kids, youth and family insight specialists, conducting research in the UK and internationally. Providing brands with tailored research solutions, conducted by a team of experts, who offer a fresh perspective on the consumers of tomorrow. Our passion for research goes beyond the client brief with our syndicated, industry recognised research studies, Kids and the Screen and Little Voices. Our business is built on client success where insight is used to give the assurance that budgets are being spent in the right areas, and that strategies are informed rather than predicted.
About Generation Media
Generation Media is the leading independent specialist media agency, the number one worldwide for communications to children, young people, families and the entertainment sector. We focus on delivering the highest quality at the lowest cost, ensuring we have the right insight tools for the job and a true understanding of the audiences with which we are trading.