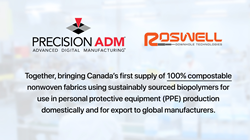 "By coming together with Roswell DHT to develop cutting-edge, 100% compostable medical PPE such as masks and respirators, we will... reduc(e) our carbon footprint and reduce greenhouse gas emissions throughout our product life cycle." - Martin Petrak, CEO, Precision ADM
WINNIPEG, Manitoba (PRWEB) August 12, 2021
Precision ADM Inc. ("Precision ADM"), a global medical device and engineering and manufacturing solutions provider today announced that it has acquired Roswell Downhole Technologies Inc. ("Roswell DHT"), the first and largest Canadian manufacturer of best-in-class melt-blown fabric for medical filtration applications.
Together, Precision ADM and Roswell DHT will manufacture Canada's first supply of 100% compostable nonwoven fabrics using sustainably sourced biopolymers for use in personal protective equipment (PPE) production domestically and for export to global manufacturers.
"As a company, we have responded to COVID-19 by developing and manufacturing the highest quality and most cost-effective medical equipment in our country's time of need," said Martin Petrak, Chief Executive Officer of Precision ADM. "By coming together with Roswell DHT to develop cutting-edge, 100% compostable medical PPE such as masks and respirators, we will better serve Canada and emerge even stronger beyond the pandemic while reducing our carbon footprint and reduce greenhouse gas emissions throughout our product life cycle."
"Precision ADM has a horizon of projects that are complimented by Roswell's nonwoven technologies, specifically the compostable media that we have been developing over the last year," said Kyle Fiolka, President of Roswell DHT. "This synergy will further strengthen and support our shared vision for innovation and pave the way in building a fully integrated, secure, domestic, and most importantly green supply chain for PPE."
By October 2021, the two companies will be operating a high-volume, automation-driven, non-woven manufacturing plant in Calgary, Alberta, and scaling up a manufacturing plant in Winnipeg, Manitoba. These plants will produce a full suite of compostable surgical medical masks, gowns, and other necessary medical PPE, air and water filtration products, and personal hygiene products.
The investment will create up to 350 high paid net new direct jobs in the Prairie region and will have the capacity to supply compostable, non-woven fabric for other domestic and international manufacturers, representing a net new economic export impact of approximately USD $2Billion within the next ten years.
For more information, please visit https://www.precisionadm.com and https://www.roswelldht.com/.
About Precision ADM Inc.
Precision ADM® is a medical device company and global engineering and manufacturing solutions provider that uses Additive Manufacturing, also known as 3D Printing, to manufacture high value components and devices for the medical, aerospace, defense, energy, and industrial sectors. Precision ADM® has its roots in the orthopaedic medical device industry and has created a comprehensive Advanced Digital Manufacturing® process that includes Design, Engineering, and Manufacturing. Precision ADM® possesses ISO 13485:2016, AS9100 Rev D, and ISO 9001:2015 certifications.
About Roswell Downhole Technologies Inc.
Roswell Downhole Technologies is a manufacturer of specialty downhole cables for well monitoring as well as a manufacturer of meltblown nonwoven media. Roswell DHT develops technology and production machinery to address market needs specifically in the energy and filtration sectors. Roswell DHT is currently operating at a capacity of 58 metric tonnes per month output of meltblown filter media and can rapidly scale by leveraging its position as an OEM nonwoven equipment manufacturer. To date there have been approximately 160 million masks produced in Canada with Roswell's filter media.