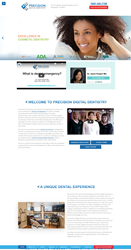 Precision Digital Dentistry staff members always strive to offer patients the highest level of personalized, exceptional dental care, so it is certainly an honor to be recognized as a 2020 Top Patient Rated Dentist, says Dr. Joyce Guojun Ma
BRIDGEWATER, N.J (PRWEB) September 16, 2020
Precision Digital Dentistry, located at 674 US Highway 202/206, Building 4 (Suite 7), in Bridgewater, NJ, is a modern, state-of-the-art family dental practice. This dental clinic is well-known for providing patients with beautiful, digitally designed smiles, using the latest advancements to deliver cutting-edge dentistry. Find Local Doctors is a trusted online directory that helps consumers easily locate qualified and reputable physicians and dentists. They have recognized Precision Digital Dentistry as a 2020 Top Patient Rated Bridgewater Dentist due to their substantial volume of superb patient reviews.
Dr. Joyce Guojun Ma and her skilled dental team enjoy serving residents of Bridgewater with quality, cutting-edge dental care delivered in a professional and welcoming environment. Providing comprehensive dental care for patients of all ages, this practice offers a wide range of services, including general dentistry, cosmetic dentistry, implant dentistry, orthodontics and pediatric dentistry. With dental implants, Precision Digital Dentistry utilizes revolutionary 3D technology so patients can receive them in just one visit. They also provide orthodontic services with the latest digital scanning technology for improved accuracy. At Precision Digital Dentistry, you will notice the difference from the moment you step into their Bridgewater dental office. Friendly staff members and amenities welcome you and make your comfort a top priority. This professional dental team is proud to offer patients the top-quality, affordable dental care they deserve.
"Precision Digital Dentistry staff members always strive to offer patients the highest level of personalized, exceptional dental care, so it is certainly an honor to be recognized as a 2020 Top Patient Rated Dentist," says Dr. Joyce Guojun Ma
More about Dr. Joyce Guojun Ma:
Joyce Guojun Ma DDS, Ph.D. earned her dental degree from Beijing Medical University (Peking University) in 1998 and then a Ph.D. in neuroscience from Johns Hopkins University in 2005. In 2010, Dr. Ma attained a DDS degree from NYU College of Dentistry. Dr. Ma has trained at the world-famous Las Vegas Institution in neuromuscular dentistry. She is an AGD (Academy of General Dentistry) fellow, a graduate of Rutgers University's Maxi Implant program, an ICOI (International Congress of Oral Implantologists) fellow and a graduate of USDI Orthodontics. During her dental career, she has received many awards and presented at numerous dental meetings and conferences. Dr. Ma has been published in several studies in peer-reviewed journals and is a member of multiple professional dental organizations.
For more information about Precision Digital Dentistry in Bridgewater or to schedule an appointment, please visit http://www.precisiondigitaldentistry.com or call (908) 955-6999.